Huobi Crypto Exchange Guide | OTC, Marginal Trade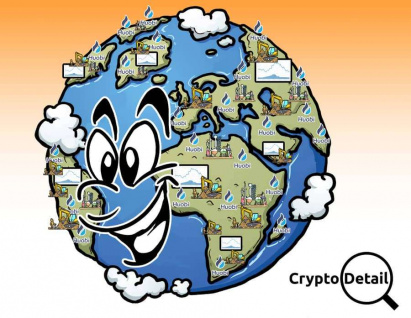 According to CoinMarketCap official stats, Huobi is one of the top 5 cryptocurrency exchanges. It's based in Singapore and generates about $300 million daily trading volumes.
These numbers say nothing to me but I really like Huobi platform and the overall concept. It's not just exchange but the infrastructure which contains useful tools, some learning, and fun.
Honestly, I have some experience dealing with crypto exchanges. I studied so many of them. Here is my personal list of the main criteria for comparing exchanges:
Exchange rates

Fees

Hacking attack cases and results

Number of coins listed

Geographical restrictions

Available options of FIAT deposit

Support waiting time

Interface usability

Trading tools

Others
According to this list, Huobi is one of the best for sure. 
Huobi has been never hacked by now. It has been attacked several times, but the security system proved it's safety.
Exchange rates are not far from the most attractive at the market, and in case you're not trading $ millions, you will never feel the difference.
The service fee is 0.2% of your transactions which is low.
To start trading you should buy crypto at the Huobi exchange or deposit crypto you already have.
Let's have a look at these basic features.
---
Buying crypto at Huobi
---
Huobi provides OTC (over-the-counter) or off-exchange trading to buy crypto. If you ever tried Localbitcoins you know what it means. Here is how the process works:
The crypto seller deposits crypto to exchange escrow. 

The buyer sends FIAT money by any option available to the seller (credit card, Paypal, Western Union, SWIFT, etc.). 

The seller confirms cash receipt. 

Exchange frees the crypto from escrow and sends to the buyer.
The steps you need to perform for buying crypto with cash at Huobi:
Go to Fiat page, 

Choose your country, payment method, and Fiat currency,  

Choose the seller and click Buy

Check the terms of seller provides

Write the amount of crypto you need to buy

Click Confirm

Transfer the money to the Seller

If you don't see crypto receipt during 5 minutes, you can push Appeal (the customer support person will join your chat with the Seller)

Also, you could write the message to the Seller to check his/her availability at the moment

After the Seller transfers crypto, you will see message Order completed

Click Transfer now

You will see your crypto at Balances page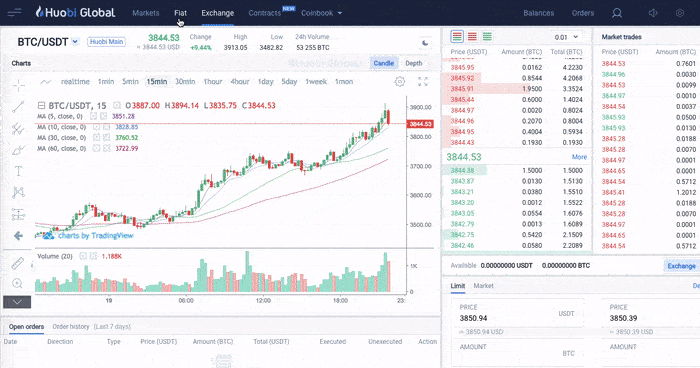 ---
Crypto deposit
---
In order to deposit the crypto you need to:
go to

Balances

=>

Withdraw, choose the crypto you have

click Deposit

copy the wallet address
send your coins to this address
you will see the coins at the Balances page when the transaction is confirmed by the Blockchain
---
Exchanging crypto
---
The trading cabinet looks awesome.
It is integrated with the most popular trading platform TradingView and has all the corresponding features like candlesticks, advanced trading indicators (moving averages, relative strength index, volume, notes, etc.), zooming, various timing options, etc. That's really helpful and handy. Take a look: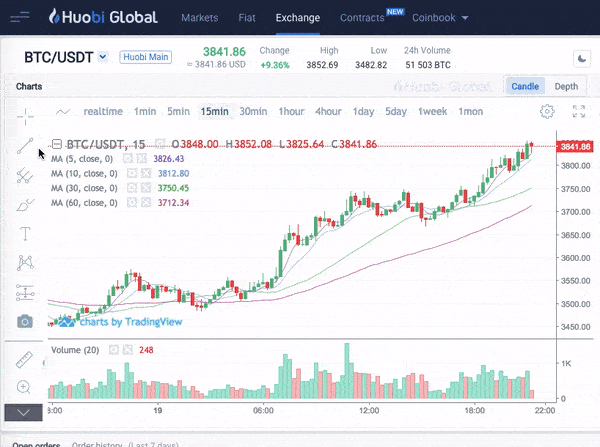 One special feature which is not available on many other exchanges is Depth graph:
You see all the trading orders available at the market. Green are bids (Buy), red are asks (Sell). Now it's about 878 Bitcoins which people want to sell by the price $3955. So you can buy these BTC for $3955 each. In substance, it's a picture of supply and demand available at the market. And it could be really helpful for your trading analysis and decision making. 
---
Marginal trading
---
If you are ninja-trader you could try marginal trading at Huobi.
With marginal trading, you take a loan from Huobi, providing collateral. Say, you give 0.1 BTC to exchange, it gives you 0.5 BTC, you make a trade and multiply your profits many times. It's a really awesome tool, but it bears the highest risk. So you need to be trading expert with many years of successful trades to utilize this option.
Please don't try this at home if you don't have enough experience, available extra funds, and risk appetite.
---
Voting for tokens
---
The fun part about Huobi is community involvement and gamification =>
The exchange has strict terms for tokens to be listed. Besides the financial terms, such as minimum funds deposit and circulation, and risk assessment, it has the rule to be approved by the community. Special power was given to holders of Huobi tokens.
So, you can vote for a listing of any token and influence on this decision. Such a measure will help to prevent real scams listings.  
---
Competitions for traders
---
The company sponsors the altcoin trading competition named "Battle of the Altcoins" with the prize of $10000 distributed between top 10 traders. Of course, the goal could be forcing the trading volumes but why not. I'm sure some of the traders don't feel this money worth fighting for. But they need to be respected and to bear the name of The Best.
---
Conclusion
---
One day, I listened to Huobi management team speech at the crypto conference. 
Their ambitions really impressed me. They are truly Blockchain enthusiasts spending $ millions in the Blockchain research and development, making educational projects to help the people better understand and utilize the industry for the benefit of all. 
I am excited about Huobi exchange, the expertise, and insistence of its team. They grew fast and proved the safety and stability of the platform. In crypto industry, it deserves a lot of respect. 
If you have any questions regarding Huobi, please ask anything you like in the comment section below.
I wish you successful trades!
---
Jim Sanders
---
Comments