BitFex Review | No KYC Crypto Exchange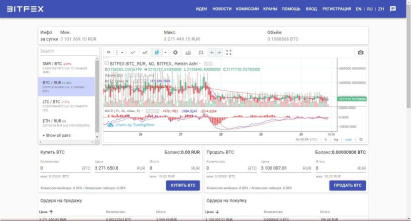 The BitFex cryptocurrency exchange was created according to the needs of traders and has proven its reliability, judging by good reviews on various forums and its long history.
During its existence, the exchange has gathered regular traders and allowed over 100,000 users worldwide to enrich themselves. Against the background of other competitors, traders noticed it immediately, as soon as they had the opportunity to test the functionality: support of fiat currencies, no need for account verification, and some of the lowest trading fees on the market became the main advantages of trading on this exchange. Despite these apparent advantages, all users highlighted other distinctive features, which we examined in detail in this review. 
---
What is BitFex?
---
General information about the BitFex cryptocurrency exchange:
- Official website: https://bitfex.trade/en/
- Fees charged: from 0.05% to 0.08% from the completed transaction value.
- There is no limit on the withdrawal of funds.
- Support of fiat currencies (USD and RUR)
- Absence of mandatory Identity Verification (KYC)
- The withdrawal of funds takes place in a fully automatic mode.
The crypto exchange appeared on the market back in 2018; it is registered in Hong Kong. Works with all countries of the world. New functionality is added constantly. For example, faucets have been recently added so even without investments, you can get an actual cryptocurrency and start trading. The exchange has user support services in English, Russian, and Chinese. This gives traders from different countries the opportunity to get trouble-free access to the exchange and its functionality. 
The website itself has a relatively simple design in a minimalistic style, which allows even a beginner in cryptocurrencies to understand trading. It is not overloaded with details, but it has everything you need to get started with the portal and cryptocurrency. The user can choose from several sections, each of which will be useful to familiarize yourself with before or during work. Ideas, news, fees, faucets, help, and two main ones - log in and registration — are the key branches, thanks to which all users can actively influence the work of the exchange, familiarize themselves with the platform policy and get access to the leading trading and system functionality. 
---
Sign-up process at BitFex
---
Authorization on the platform can be carried out in a few minutes. All you need to do is fill out a registration form, including email, username, and password. 
Pay attention! The service strongly recommends using a combination of characters in the password that you do not use anywhere else. This will protect your account from hacking while the choice of password remains with the user. Given that the exchange does not require passport data, you need to ensure that you have reliable access to email because this is the only way to verify you as an account owner. 
As soon as the essential information is filled in, a letter with a unique link will be sent to your email. You will need to click on it to confirm access to the email and start trading. 
In your account, you can always perform the following actions: 
- change password;
- enable two-factor verification (2FA) to increase login security;
- enable audio notifications or adjust the mailing list; 
- enable two-factor verification (2FA)
Unlike third-party platforms, the BitFex crypto exchange does not require a scan of a passport, utility bills, or a photo on the background of the site's main page, even for withdrawal of funds. All you need is to confirm your email, top up your balance and start trading.
---
BitFex Customer Support Features
---
The key feature of the exchange is the continuous refinement of the functionality and the introduction of adjustments to the terms of use. The service achieves high ratings and is convenient for the end-user. In the "Roadmap" section, everyone can find several ideas put up by other users for the administration and the technical department as suggestions and vote for the ideas they like, as well as submit their own. All of them are filtered by votes — the more users express interest, the faster the view will be implemented on the exchange.
To conduct discussions between users and managers, the developers have also created an online chat where portal participants can ask questions of interest to them and discuss the latest news. There is no need to have a minimum balance limit to communicate in the chat - the chat is open to any trader.
To ensure the most comfortable use of the exchange, including monitoring, the service's functionality allows you to open and hide the chat if necessary. To collapse or expand it, click on the button located in the right corner of the screen.
Important! When you switch the site language, the chat language also switches automatically. Take this fact into account if you are not a native speaker of English or Chinese.  
---
Trading on BitFex exchange
---
BitFex is characterized by ease of use. The most famous and multifunctional live chart from TradingView and a set of professional tools for traders' work is used for the visual perception of trading charts. Deposits, withdrawals, and buy/sell orders are processed instantly, and the presence of integrated extensions created for the convenience of work becomes a pleasant bonus.
Even a beginner will be able to understand the functionality. The site's main page displays three main sections — a list of currency pairs, a list of leading traders, and the main parameters of the transaction for creating a buy/sell order. At the very bottom of the web page, there are links to articles about the functionality and principles of operation. Every beginner should get acquainted with them. 
---
How to deposit and withdraw crypto at BitFex?
---
Users can top up their accounts and withdraw funds in multiple ways: 
- Rubles via YooMoney;
- USD  via AdvCash system;
- Cryptocurrencies via any wallets or other exchanges.
For withdrawal and replenishment, the service charges a small commission, which varies depending on the type of currency. 
---
Advantages and disadvantages of BitFex
---
In testing the service, many users determine their list of advantages and disadvantages for themselves. We have noted the main ones below.
- All power is in the participants' hands - traders themselves form tasks that make the exchange the most convenient for trading from the user's point of view.
- Simple authorization conditions — no account verification required.
- The most favorable offers - the lowest fees on the market deposit/withdrawal of fiat currencies (deposit RUR 0%/USD 2%, withdrawal RUR 4%/USD 3%).
- The minimum trading fee is 0.05% for the maker and 0.08% for the taker.
- Automated system — all deposits and withdrawals are executed instantly, in automatic mode.
- A wide range of professional tools - there are faucets for getting tokens and coins for free.
- Open discussion in the chat — all authorized users can write there.
- High level of security — 2FA, confirmation of withdrawal by mail, each coin is placed on a separate server, a system of cold wallets, and much more.
- A simple API for launching trading bots.
- Several access systems — a mobile version for convenient trades via smartphone and a website.
- The presence of dedicated branches on all significant cryptocurrency forums: bitcointalk, forum.bits.media, forum.bitcoin.com.  
- Support for three languages - Russian, English, and Chinese.
There were not so many disadvantages, but they are there — if you lose access to your mail, you will not be able to restore access to your account because the exchange does not ask for passport data, and there is also no referral program. Despite this, it is still extremely convenient to trade on it. 
In conclusion, it is worth noting that the BitFex.trade crypto exchange is one of the best solutions for professionals and beginners. It has the most specific requirements for getting started and has been working on the market for a long time, thanks to which it has earned a reputation as a reliable platform for trading cryptocurrencies.
Comments