Top 10 Cryptocurrency Exchanges You Can Trust 2023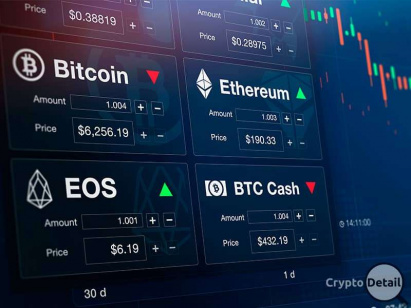 It's a common problem to find the right exchange to buy and sell cryptocurrencies. These 10 crypto exchanges offer high volume, trust and are safe to use.
The advent of cryptocurrency which began with Bitcoin a decade ago necessitated the need for cryptocurrency exchanges.
Cryptocurrency exchanges are nothing but market places where crypto can be bought and sold. It's pretty much like your traditional Forex exchange bureaus except the assets on the table are decentralized and the transactions are recorded on a digital ledger.
Most crypto exchanges operate with an intention to offer support to a specific demographic, or specific types of clients based on where they are located, need for anonymity, or even the payment method they intend to use; very few exchanges are created to service the needs of just any type of client.
When determining the most ideal crypto exchange, it's not as simplistic as advertisers may have you believe. You do not only consider the exchange's rank by volume, features, or trading fees, there is also the aspect of what exchange is tailor just for you. It is important to note that there are major exchanges that cast their nets wider than others by offering a broader range of services in order to capture as many clients as possible, and there are less popular exchanges that render services to only a specific type of client.
Some of the best and most popular exchanges include:
---
Coinbase
---
Coinbase is probably the most popular and trusted platform in as far as crypto exchanges go. It enjoys the backing of top investors such as major banks and financial institutions. The company is classified as an American financial institution and is also in line with major EU financial regulations.
The exchange enjoys an unrivaled trust level from its clients which is a great thing because it speaks of its stability and reliability, but it is also not so good because it means the exchange only features a small number of crypto-currencies. This does not bother most crypto enthusiasts though since all the top cryptos are available for trading on the platform. Another slight blemish with this platform is that it operates in only a limited number of jurisdictions of origin in North America, Oceania, and Europe.
---
Binance
---
Binance is the largest exchange of its kind in the game and has its roots in China, where it was previously based before an unfavorable regulatory environment forced a move to Japan. The Japanese regulatory environment also turned on it which forced it to relocate again to Malta.
Headed by Changpeng Zhao also known as "CZ", which he goes by on social platforms, Binance holds the title for the most preferred exchange for a coin to coin crypto trading. The exchange offers the highest number of coin pairs and is a strictly crypto-based exchange; with Bitcoin being its base unit and not USD.
It also boasts some of the lowest fees on trades and withdrawals. The exchange has been ambitious in its coverage with some of its latest outreach projects located in Jersey and Uganda.
---
CEX.IO
---
CEX.IO is one of the pioneers in the crypto industry. Established in 2013, it now has offices in the UK, US, Ukraine, Cyprus, and Gibraltar. CEX.IO is a regulated exchange with licenses in multiple jurisdictions, including 26 US states (in total works in 43 US states as of the time of writing).
CEX.IO Exchange offers the most popular crypto to crypto and crypto to fiat currency pairs. CEX.IO also provides easy to use payment options — credit/debit cards and wire transfers. 
CEX.IO combines the simple trading interface with wide functionality.  It has some top-notch services, like buying crypto instantly with a card and Instant Sell with an immediate topping up of your card — no one offers such service so far! (not yet available for the US cards though). There is also an Instant Exchange service that allows converting between various crypto and fiat currencies in a few clicks. CEX.IO hassle-free Staking rewards customers for simply holding stake-able coins on the account, and more. Thus, whether you are a beginner or a professional trader — you'll find what you need there.
---
LocalBitcoins
---
LocalBitcoins is a peer to peer (off-exchange, or OTC, or Over-The-Counter) exchange that exchanges fiat currencies and Bitcoin. The exchange acts as a medium between two parties seeking to trade Bitcoins in whatever quantities they desire, at the price they desire, and the method of exchange.
The exchange has gone a long way in enabling personal transfers of both fiat and Bitcoin without the regulatory or tax hassles one would face while making similar transactions on a traditional exchange. The exchange has also gone a long way in giving people from all over the world access to Bitcoin. Developing countries that have been largely ignored by most exchanges have gotten exposure to Bitcoin thanks to this exchange. LocalBitcoins has been the saving grace for online freelancers working in countries such as Venezuela where the local fiat currencies have fallen out of favor with the people.
---
Bitfinex
---
Bitfinex is a top-notch fiat to crypto, and also crypto to crypto exchange. There are only a handful of exchanges that can compete with Bitfinex when it comes to accommodating traders looking to execute advanced trading techniques while also trading large volumes. The exchange boasts a wide range of coins, fiat currency pairs, and also some of the lowest fees.
---
Bittrex
---
If you are looking for an exchange that offers a wide range of crypto to crypto trading pairs with high volumes, then Bittrex is perfect for you.  Bittrex is a crypto to crypto exchange that was created by its designers to be more security conscious than other exchanges.
The exchange keeps most of its client's holdings in cold storage making them inaccessible to hackers and is also arguably the best exchange for those seeking to hold less popular coins. The exchange does charge slightly higher fees than its rivals, which is justified by the high level of security it maintains.
---
Kraken
---
Kraken is one of the earliest and largest exchanges in the industry. It boasts of a wider range of pairs than most exchanges and deals with both fiat and crypto. Kraken has been touted as a haven for more advanced traders, but the exchange has made efforts to be attractive to even new inexperienced traders. The exchange boasts of a wide range of funding options, low fees, and a comprehensive security approach.
---
Coinmama
---
Coinmama is an exchange that offers a quick and efficient way to buy cryptos using fiat currency without needing third-party storage. The exchange is perfect for those intending to purchase coins without delay, and lengthy registration processes. The exchange does charge a premium in fees for its highly advanced services, discretion, and speed.
---
Changelly
---
Changelly is an exchange unlike any other in the crypto space offering fast and anonymous crypto to crypto transfers with no third parties involved. The exchange is not ideal for investing or trading, it is more inclined to enabling fast and discreet coin exchanges to private wallets.   Changelly also offers fiat to crypto exchange services, but this service is not as widely used due to the high fees it levies.
---
Prime XBT
---
This is an exchange that offers fiat to crypto exchange services, and also comes with advanced trading tools, high leverage, and a pooled liquidity from other exchanges.
The exchange is a top attraction among advanced traders due to the features it has. An account on the exchange can be funded directly with Bitcoin or indirectly through Prime XBT using fiat or Altcoins. The exchange boasts an interactive and attractive interface, as well as some of the lowest fees.
---
Comments