Why You Need a VPN in Crypto? | RocketVPN Guide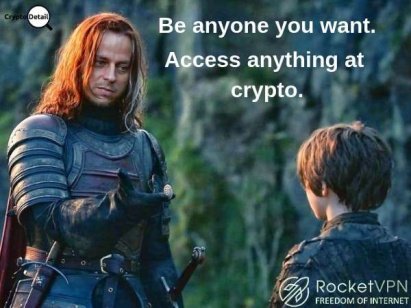 Dealing with the cryptocurrency industry is subject to a high risk without using VPN on your devices. Today we consider RocketVPN service as one of the best options for being safe on the Internet.
Have you ever thought Edward Snowden tells the truth? It is so easy for governments to track all of our Internet data. All they need is to get access to our wifi. That's it. And not only governments. Now you can google free hacking guides on stealing personal information from any not protected web user. Isn't that scary? 
It is becoming more crucial in the cryptocurrency space. Do you want hackers to get access to your own money? Sorry, but Blockchain couldn't help you with this. Only VPN can help here.
I can't imagine having crypto without using VPN nowadays. 
Did you feel vexed when you found out Facebook selling your data to third parties who are exploiting and profiting from it?
Let's go ahead. Have you ever faced the websites which are banned in your country? Every country has a blacklist of websites you can't access. And cryptocurrency sites became popular among these lists. Do you think it's fair? But being on the Internet doesn't relate to your jurisdiction. The Internet is a worldwide web. So if you got access from the server in another country, it's not a crime. Sometimes such regulatory decisions are not fair, and sometimes they contradict other laws. Say, there is still no clear legislation regarding crypto in your country, but the websites are banned. In such a case, VPN is the only way to handle it. 
---
What VPN really do?
---
VPN (a virtual private network) does a lot of cool stuff. It uses cryptography to hash and secure all the data you are sending through your Internet connection. It provides you with a server in any location of the earth. It ensures the highest speed of connection, saving you a lot of time and making you more satisfied. VPN services have different levels of functionality. Some of them route your traffic to another place. Others protect you from any third party tracking and provide you with comprehensive coverage. Using both an anonymized cryptocurrency and a VPN ensures maximum user anonymity when it comes to your online crypto activities.
Let's clarify all the benefits on one list.
---
VPN benefits 
---
It provides IP addresses from different locations thereby masking your own IP

It doesn't keep and share the logs of your activities with any third parties.

It utilizes encryption to secure your connection from attack.

It improves the speed of your internet connection with unlimited bandwidth.
It's not a complete list of all you can get. Some providers offer extra security add-ons. Let's have a look at the service called RocketVPN and its features.
---
What does RocketVPN have?
---
256-bit encryption, supporting the best protocols:
- L2TP (governments use this technology to protect secret data)
- OpenVPN (even more powerful tool, providing the virtual and dynamic infrastructure of highly secured VPN connections)
Servicing any device (Windows, macOS, iOS, Android, Linux), up to 5 per 1 account 

7 days of a free trial

Prices start from $2.49 per month

VISA/MC, PayPal, cryptocurrency payments available

24/7 full support

Additional services, upon request (like filtering traffic)

Corporate VPN, from $29.99 per month (up to 100 connections)
---
How to use RocketVPN?
---
RocketVPN has a simple and friendly interface. Here is a quick demo: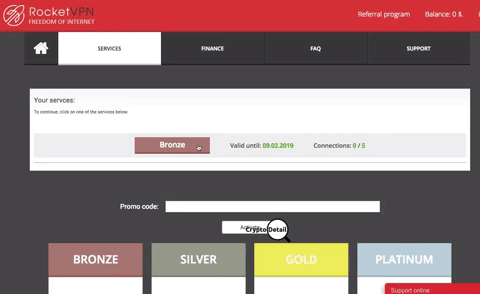 Let's clarify everything you need to do here step by step (I will use my Mac):
1. Go to the RocketVPN website, choose the pricing plan convenient for you (plans differ only by the period of usage): 
2. Complete registration:
3. Complete the payment:
4. If you like to pay with cryptocurrency, please write to support widget:
I received a quick response from RocketVPN support, and I need to highlight, they are ready to help you with any issues.  
5. After payment complete, click on your plan:
6. It's your personal account with all the details you need to run your VPN:
7. Then I followed a simple guide available at the RocketVPN website:
After you finish this quick tutorial, your VPN will be active.
By the way, RocketVPN managers said they are always ready to set up a VPN for you through TeamViewer.
If any questions arise, don't hesitate to use the support widget at the website's left bottom corner.
---
Conclusion
---
If you are not using VPN right now, you are in trouble. Hackers could intercept all the info your computer sends to any server on the web. So basically, hackers see everything you write or save, they know everything about you.
Your internet service provider has access to all of your data. And someone is happy to steal it from you. Like, National Security Agency (NSA).
VPN has an enormous number of benefits. It directly uses cryptography which I am so excited about. It erases any borders you are facing on the Internet. 
I call you; please don't let someone own your data. Today, information is the most valued asset you have.
---
Jim Sanders
---
Comments