Blockchain Life 2020 Conference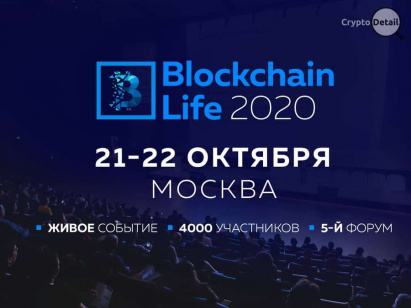 On October 21-22, Moscow will host the largest offline event on the blockchain, cryptocurrencies, DeFi, and mining in 2020 - the legendary Blockchain Life 2020 forum.
The event brings together over 4,000 guests at the ultra-modern Music Media Dome.
In the schedule:
- Industry regulation in Russia and the law on CFA
- DeFi prospects. How to make money on DeFi?
- Features of efficient mining in 2020.
- Actual trends in crypto trading.
- Cases of blockchain implementation in the business and public sector.
- Section with leading cryptocurrency exchanges
and much more
---
Blockchain Life 2020 Online Networking Platform
---
For the Forum participants, an online networking platform was presented for the first time, and a Speed-networking (quick dating) zone was organized.
---
Get your ticket to Blockchain Life 2020
---
Buy a ticket: https://blockchain-life.com/europe/ru/#tickets-row
Important! The number of tickets to the Forum is limited to comply with anti-epidemic measures by the requirements of Rospotrebnadzor. Participants with body temperature over 37 degrees Celsius are not allowed to the event.
---
Blockchain Life 2020 Sponsors
---
The general sponsor of the Forum is PlatinHero.com
The general sponsor of AfterParty is B2Broker.net
---
Learn more
---
https://blockchain-life.com/europe/ru
---
Comments