How to Pay with Bitcoin | Crypto as Payment Method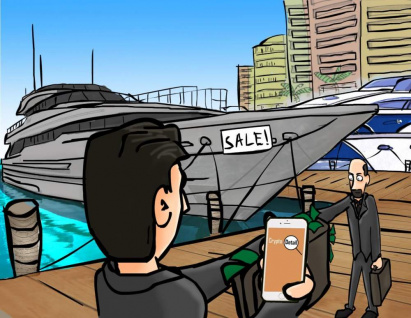 Let's investigate a portion of the many advantages to companies that accept cryptocurrency as a payment method for customers and clients.
Over the last few years, the term "cryptocurrency" has consumed the world. Traditional news, major corporations, and websites around the globe are teaching people about things like Bitcoin, Litecoin, Ether, Monero and Blockchain technology. These are all cryptocurrencies and the framework upon which they are built.

Companies are hoping to gain by tapping into the millennials' love of new innovation and bring them into their stores and onto their websites have adopted various cryptocurrencies; trying to beat their competition to this evolution in payment options in order to grab that untapped market first. Let's investigate a portion of the many advantages to companies that accept crypto from customers and clients.
---
No Limitations with Crypto
---
If you are a business person you are used to using traditional fiat (cash /charge) payment systems. These outdated payment platforms have hidden fees, incoherent Terms of Service, reversible transfer protocol and a long history of defrauding their users (either directly, or by making it possible, even simple, for a scammer to obtain goods and services for free). Crypto eliminates all of that by giving your business control of its own funds. From start to finish, a crypto payment is solid and irreversible; meaning, your business has no further worries as to chargebacks or fees imposed at random. Likewise, with crypto payments there are no membership or month to month expenses, reducing business costs, thereby increasing profit margins.  
Furthermore, traditional payment platforms impose rules to purchase size, as well as geographical limitations. Crypto payments eliminate those limitations as well, bringing your business in the present day worldwide economy. Your business will only be limited by your own efforts in marketing to your new customer base in each country around the globe. Cryptos offer similar advantages to consumers by allowing you to get things from anywhere around the globe without worry about currency conversion rates. The method of transferring crypto coins is simple and immediate; allowing you to make purchases with a few clicks. Cryptocurrency wallets are available for use on any device. Windows, Linux, Mac Android, and iPhone all offer safe, convenient wallets for your currency of choice. So, your money is in your control until you make each purchase and pay for it; much as you would with fiat cash.
If you are making larger purchases crypto has a number of options for use as escrow services. Escrow places your crypto into a transfer, without releasing it to the merchant until you have received the goods or services you have purchased. So, the possibility of scamming is thereby eliminated. Multi-Signature wallets are perfect for such transactions. Multi-sig transactions allow you to send without completing a payment until you add a "signature" code, releasing the funds when you are satisfied with the purchase; while proving to the merchant that you have, and are ready to spend, those coins in exchange for the goods/services being sold. 
---
Anonymous and Fully Transparent Payment System
---
All of these possible new payment methods (ie crypto coins) have, and will continue to, revolutionize e-commerce as we know it. And, much to the chagrin of credit card companies, banks and traditional online payment platforms like PayPal, these new possibilities have given merchants and consumers the safety, security, and reliability that we have lived without for far too long; and which led to the creation of cryptos in the first place.
With the invention of Bitcoin, the first crypto, we finally have a payment platform that is:

* Anonymous
* Fully transparent
* Uses transaction fees area unit minuscule
* Quick
* Non-refutable
---
No Payment Fees
---
And, while traditional banks would force you to meet more than a few conditions before being able to open even a straightforward checking account, crypto has no such restrictions. With the cryptocurrency of your choice, it takes mere seconds to open an account (wallet), with no questions asked and no advanced deposit /payment needed. Cryptocurrency also does not charge for international transfers. You will be able to send your cash any place and see it arrive in minutes, taking only as long as the cryptocurrency network you are using processes the payment.
Best of all, once you have received a crypto payment those funds are yours forever until you spend it. 
---
So, join in the future, grab the crypto of your choice to make purchases, accept cryptos at your business and see your customer base grow immensely, enjoy the security the cryptocurrencies offer, and, Happy HODLing! 
---
Comments