Who Accepts Bitcoin as a Payment Method: Top 10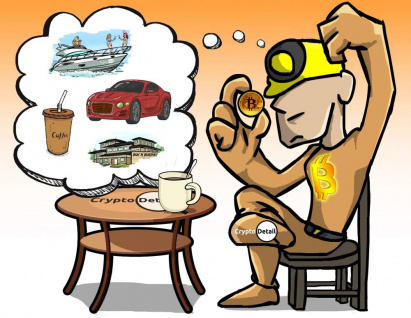 Everyone knows that we here at CryptoDetail love our Bitcoin. We get many questions about how, exactly, our readers can spend their BTC. So, we have come up with 10 ways you can spend your Bitcoin.
Bitcoin is the King of Cryptos; the first; the reason the cryptosphere was born. Everyone who is a regular here also knows that CryptoDetail repeatedly reminds our readers that Bitcoin is a CURRENCY. But, to be a currency, you must be able to spend it in the real world. We get many questions about how, exactly, our readers can spend their Bitcoin. So, we have come up with 10 ways you can spend your Bitcoin.
---
1. Walmart
---
One of the largest multi-purpose stores in the world is Walmart. The reason Walmart is so popular is that they have so many choices. From groceries to clothes, to auto repair, and even a medical clinic; Walmart covers most of our daily needs. Well, Walmart doesn't accept Bitcoin payments (yet); but, they do accept Walmart gift cards. And, you can get those quickly with your Bitcoin wallet by going to Gyft.com. Gyft offers Walmart and a plethora of other, real-life gift cards for purchase with Bitcoin. Just go to the site (or download their app) and add money to your Gyft account directly from your wallet. It's as simple as making a transfer. Once the BTC is received by their system they credit is to your Gyft account; then you just shop for gift cards. And, while many people don't know it; the little gas station Murphy USA that sits in the Walmart parking lot also accepts Walmart gift cards; so, with this choice, you can even gas up your car. All of these amazing possibilities make the Gyft.com Walmart gift cards our # 1 way to spend your Bitcoin.
---
2. Amazon
---
Amazon, the giant of the e-shopping kingdom, is a beloved website doing billions in business each year. This website has changed the landscape of commerce and even totally altered the mythical "Black Friday" that marks the opening of the holiday shopping season each winter. Well, hit that BitPay wallet again; scroll down, right there under your wallet balance, and you'll see the Buy Amazon Gift Card option. Simply tell it the amount you want and you'll get a gift code right there in your wallet. Hit Amazon, login to your account, click on Gift Cards and add that code; voila that money is right there on Amazon waiting to be spent.
---
3. Hostinger
---
Hostinger and many other servers accept Bitcoin payments; giving you an instant platform where you can build your very own website (where we know you'll accept Bitcoin). Many of our readers aren't likely programmers; but, quite a few of you are. This option allows you to pay for server space, without having to "cash-out".
---
4. Ask around 
---
We recently had an occasion to have some computer repair work done on our systems. We located a capable, local guy and negotiated a price for the repairs we needed. Then, a simple question, "Do you accept Bitcoin?". It was no surprise when he said YES! (Shout out here to Mike's Downtown in Fort Pierce, FL; great guy and excellent tech.)
Sometimes we have to take a bit more of an indirect route to spending out Bitcoins in the fiat world. So, we have to "cash-out" (exchange our BTC for fiat). These last six methods show you how to do that relatively painlessly.
---
5. Paxful
---
Paxful is our friend! One of our favorite platforms in the cryptosphere. If you don't have access to Gyft or a BitPay wallet you can always find gift cards (for Walmart and Amazon) on Paxful. 
However, there are a number of other options as well; ones that put fiat cash right in your hand.
---
6. Western Union 
---
WU is a popular method of fiat transfers; even across international borders. There are traders on Paxful that will use this method of payment to give you cash for your Bitcoin. Just initiate the trade, which places your BTC into escrow, and the Western Union transfer will be made to you. Once you pick it up, you release the escrow, then you and your trading partner leave feedback; thereby helping each other to build your reputations.
Just like Western Union; there are a couple of other money transfer options on Paxful. These work in the same way as Western Union. A quick word of warning here; as WU, and their competitors are fiat transfer platforms there are many anti-terrorism laws in place that regulate this industry. So, overuse of these methods of "cashing out" can result in temporary, or permanent bans; sometimes freezing your cash. Use sparingly.
---
7. MoneyGram 
---
MoneyGram is cheaper, easier and faster than Western Union.
---
8. Walmart to Walmart 
---
(yep, they have their own money transfer system in every store too)    
Then you have options that work through your standard fiat banking methods. These are a bit of a risk considering the combative nature of traditional banks and payment platforms feel toward cryptos. But, used in moderation, very effective.
---
9. Direct deposit 
---
Direct deposit into your fiat bank account. This option allows your trading partner to pop by a branch of your chosen bank to have cash deposited directly into your account. Electronic transfer is another option to have your bank account grow through trades for BTC. PayPal, Google Wallet, and Venmo are other options along these lines that put funds directly into your fiat accounts. 
Finally; there is personal trade. 
---
10. Direct cash / BTC trade 
---
Personal meetings are a bit riskier than other trades; for obvious reasons. But, most traders conducting such trades require the meeting to be in a public place (our personal favorite is the parking lot of a local police station). You meet, they hand you cash, you release the Paxful escrow right there on your mobile device. 
While there are risks when making P2P trades. Reversals and disputes are common scammer methods of getting your BTC without payment. Dealing with reputable traders eliminates those risks. Trade with people you know; and with those traders who have taken the time to build a solid reputation.
The fiat "cash-out" options are fulfilling, seeing your Bitcoin transformed into cash just feels good. However, the risks of fiat institutions rebelling against those options prompt us to urge you to use your BTC directly. When you can't find a business that will accept your BTC as payment; the gift card is the PERFECT method of spending your Bitcoins in the real world. 
---
Now that you know how to spend your Bitcoins; it's time to go shopping!!! 
---
Good luck with your own crypto journey! Happy HODLing!!!
---
Danny Donahue
Comments