Who Accepts Bitcoin As Payment: Top 10 Places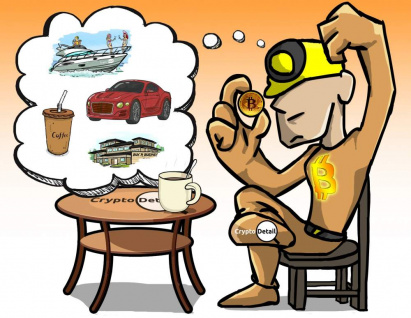 Bitcoin ('BTC') is the largest and most well-known cryptocurrency. It can be used to pay for flight tickets, hotels, physical goods, professional services, and many other items, once you know where to look.
People have bought real estate property and cars with Bitcoin and for large sums of money. It is its industry that has made quite an impact. 
So, who accepts bitcoin, and how to pay someone with bitcoin? Bitcoin is a sovereign currency that can be used to buy real things. You can quickly learn how to make a Bitcoin payment within just a few minutes. At CryptoDetail, we love everything about this revolutionary new technology. So, let's take a look at how to spend bitcoin and how a transaction operates.
---
How to Accept Bitcoin as Payment
---
Learning how to pay with bitcoin is a lot easier than you might think. First, you get a wallet with a wallet address. This wallet address is an alphanumeric series of characters that is 100% unique. It can be compared to the IBAN identifier for a bank account. Popular wallets include Exodus and Blockchain Wallet. They are simple to use and highly secure. Download them, and you have all you need to make payments. 
So how do you pay with bitcoin? For online purchases, you will often need to deposit the money directly by sending money from your Bitcoin wallet to the wallet address given to you by the online merchant. You send the required amount, and it arrives shortly after (usually within 5 - 10 minutes, depending on size).
You can also pay at restaurants/retail outlet using a wallet application. This application (connected to your wallet address) will scan a barcode presented by the attendant to finalize the transaction. Desktop wallets will nearly always have a mobile equivalent for download. If not, you can send funds to a wallet such as Samurai Wallet to complete the payment. 
One technical feature you might need to take note of is called the Lightning Network. This is simply a version of the Bitcoin blockchain that is cheaper and faster than the standard blockchain. It means that the Bitcoin blockchain can make microtransactions and scale more efficiently as a genuinely global payment mechanism.  
Spending Bitcoin is easy once you get the hang of it. The main issue is that it is not currently available everywhere, though its usage is increasing. Find more tips on how to get paid in bitcoin.
---
How to Pay Using Bitcoin in Different Companies? 
---
But how to accept bitcoin as payment? Many companies do not directly accept bitcoin as a form of payment. But what you can do is purchase a gift card using Bitcoin to spend at these retailers. Other companies use a crypto payment processor such as BitPay. This means that you pay in Bitcoin to BitPay, they convert it to fiat and pay it to the company. Unfortunately, there's some confusion between direct acceptance (Cheap Air, BitRefill, Overstock) and indirect recognition (Amazon, Walmart, Microsoft). Below, we have made a list of the larger companies where Bitcoin is accepted and widely used.
---
#1 - Cheap Air
---
Cheap Air is one of the best places to use Bitcoin and other cryptocurrencies, including Ethereum ('ETH'), Litecoin ('LTC'), Dash ('DASH') and Bitcoin Cash ('BCH'). It has processed over $5,000,000 in Bitcoin payments so far and is based in California. Cheap Air has been accepting payments since 2013 and are far more comfortable to use than a typical third party flight provider. However, keep in mind that the payments are processed in USD.
The company first decided to accept cryptocurrency after several customers started to demand alternative currencies. They went with the most popular cryptocurrencies - BTC, LTC, ETH, DASH, and BCH. They have a dedicated team to clear crypto payments, and the customer service is exceptional. Rival travel company Corporate Traveller is also reported to be accepting crypto payments shortly due to increased demand from customers. 
---
#2 - BitRefill
---
Bitrefill is the world's largest crypto-only e-Commerce site. Using BitRefill, people can use their BTC to purchase gift cards and mobile refills. It currently supports Bitcoin, Bitcoin Lightning Network, Dash, Doge, Litecoin, Ethereum, and Bitcoin Cash. Customers can top up their phones across over 170 countries and over 900 operators. Gift card refills are available for sites including Amazon, Playstation, Steam, Google Play, Addidas, Airbnb, American Eagle, Applebees, and many more. 
BitRefill aims to fulfil the original aim of cryptocurrency - a complete replacement of fiat money towards a form of democratic finance. The enterprise currently offers three services - Mobile refills, digital gift cards, and Lightning Network services for Bitcoin. The ultimate goal is that people will live entirely on cryptocurrency without using any fiat finance. The company was founded in 2015 and employes over 15 remote workers.
---
#3 - Bitcoin Direct Deposit
---
Of course, it's entirely possible to send Bitcoin by direct deposit for cash. You sell your Bitcoin using an online site such as LocalBitcoins.com. The coins are held in escrow and released when payment has been made to your bank account. You can see the rating of the seller on these sites. 
These sites are very safe, and 2FA is mandatory for most of them for enhanced security. 
You can also meet up with people directly to facilitate a trade. There are forums and marketplaces where you can find trading partners. This is far more dangerous than using a trusted platform. 
It is also tricky in terms of knowing how to accept the fiat cash and when you transfer the money. After all, after the BTC has been sent, there is little stopping your trading partner from merely vanishing. So be sure to buy them a coffee and get to know them first!
---
#4 - Walmart
---
Does Walmart accept Bitcoin? The answer is that Walmart does not take it directly, but does accept gift cards. You cannot use Bitcoin directly to purchase goods from this retailer. Like many other entries on this list, what happens is that you need to buy a gift card first (such as Gyft) using BTC and then redeem this card on the site or in the store.  
Walmart is actually in the process of creating its cryptocurrency and has a patent filed. Walmart was founded in 1962 and incorporated in 1969 in the USA. It is a physical retail outlet for the purchase of material goods.
---
#5 - Amazon
---
Like Walmart, you can make use of gift cards (paid for using BTC) to purchase items on the gigantic Amazon store. Amazon is the largest e-commerce site in the world by a large margin. Like Walmart, it cannot accept Bitcoin for purchase due to operational complexities but does accept gift cards. 
The network might be too slow and unreliable if used at scale compared to the credit card networks such as Visa or MasterCard. Both Amazon and Walmart are in the process of creating their digital currency, as are many other large multinational companies. 
---
#6 - Paxful
---
Paxful is arguably one of the most well-known cryptocurrency companies that have made an enormous impact in furthering cryptocurrency adoption. With over 300 payment methods, it is one of the safest and most comfortable places to buy and sell Bitcoin. Paxful was initially created as a way to 'bank the unbanked.' Impoverished people without a home or social security number found it challenging to open a bank account. Paxful was one of the first companies that resolved this problem with a wide variety of payment methods to access Bitcoin and make essential purchases. 
Paxful is more than just a place to buy and sell Bitcoin. It is a platform for the buying and selling of services and physical assets. While the range is not that extensive, people can put their assets for sale on the platform. Gift cards are also for sale here, and you can even get cash delivered to your door or delivered to your bank/PayPal account. It is possibly the most versatile platform for transactions involving Bitcoin. 
---
#7 - Western Union
---
You can sell your Bitcoin using Western Union, an ancient (and somewhat deprecated) means of currency transfer. The speed of Western Union is its main advantage. But it has always been regarded as one of the best ways to transfer money to bank accounts, regardless of where the sender or receiver is in the world. 
After the money has been successfully wired, the receiver will have the funds within minutes. And when selling your Bitcoin, you can have the funds deposited into a bank account of your choice or receive the money straight up from the cashier. 
Western Union has over 100,000 branches worldwide as one of the largest currency institutions in the world. Next time you are in an airport, you will be sure to spot a Western Union office for currency trade. The transaction is very secure and reliable. 
---
#8 - Etsy
---
How to pay using bitcoin on Etsy? Etsy is an online e-commerce store with very niche offerings. It is most famous for small businesses such as arts and crafts, paintings, interior design, clothes, appliances, and other nifty items. Etsy is like a sizeable personalized store where small business sellers advertise fresh products for sale. 
Etsy does not have a formalized system in place for the acceptance of Bitcoin. Upon checkout, a customer will select the payment option 'Other.' They will then leave a note saying that they would prefer to use Bitcoin as a payment method. 
The seller will then give the Bitcoin wallet address details to the customer who makes payment. It is safer to use a Bitcoin payment processor such as Bitpay to make this transaction. One of the benefits is that an invoice will be generated, so you have proof of payment. 
---
#9 - Overstock
---
Overstock is a vast eCommerce platform located in Salt Lake City, Utah, USA. It was initially founded in 1997 and was one of the first large retailers to accept Bitcoin as a payment method in 2014. Within 22 hours of accepting BTC, they received orders worth over $120,000. While this was a massive boost at the time, it still represented only a small amount of its total sales volume. Still, Overstock is a large and well-known brand and helped to facilitate Bitcoin adoption effectively at a time when it was very under-rated. 
To spend Bitcoin at overstock, select the cryptocurrency option at the checkout. Several other cryptocurrencies are also accepted, including Litecoin, Dash, New Economy Movement, and Monero. Refunds are processed in the crypto that you paid in. Unfortunately, you can not combine crypto payments with fiat payments (not just on Overstock, but on practically every other site that accepts crypto payments). 
---
#10 - Express VPN
---
Express VPN is one of the largest and most well-respected VPN providers in the world. They accept Bitcoin as a means of payment for yearly services. While this is something of a niche offering, many other VPN providers accept bitcoin, including NordVPN, CyberGhost VPN, AirVPN, and IPVanish. 
These kinds of digital companies are typically more inclined to accept cryptocurrency as a means of payment. However, they offer a subscription-based service where you have to renew yearly or monthly, so recurring subscriptions can be tricky (you have to make BTC payments unless you use a third-party application manually).
---
How to Pay Someone with Bitcoin in Other Places 
---
Bitcoin ATMs are proliferating. You walk up to these ATMs (often referred to as kiosks) and buy or sell Bitcoins for cash. Be mindful that fees for this can be quite expensive. They are usually located in airports, where it can help avoid some of the typical currency transaction fees. These ATMs can also help unbanked populations gain access to cryptocurrencies, which can be spent in more places compared to weak currencies (such as the Indian Rupee or the Laos Kip). 
There are too many places that have adopted Bitcoin to list them all out in detail, and in practically every industry, some retailers accept them. Some of the other major companies where cryptocurrency is accepted as legal tender include:
- AT&T
- Purse.io
- Gyft
- eGifter
- Subway
- Domino's Pizza
- Burger King
- Crypto Coffee
- Goldman Sachs
- Royal Bank of Canada
- Worldcore
- Bankera
- Paypal
- Intuit
- The living room of Satoshi
- Bitcoin Commodities
- Denarium
- Bitcoin Real Estate
- Shopify
- BitPlaza
- SurvivalCampingStore
- Cryptoshopper
- Bitshopping
- Bitcoin travel
- More Stamps Global
- AbitSky
- Future Travel
- TravelByBit
- CheapBizClass
- Destinia
- Post Oak Motor Cars
- BMW
- Lamborghini Newport Beach
The list of companies that are accepting Bitcoin is steadily increasing. There are plenty of places to go shopping, and it is entirely possible to live 100% on cryptocurrency, once you take the time to understand the ecosystem. Learn how to receive bitcoin payment as well as how to make one with us. 
---
Good luck with your crypto journey! Happy HODLing!!!
---
Comments