TradeFred Review | Solid Cryptocurrency Broker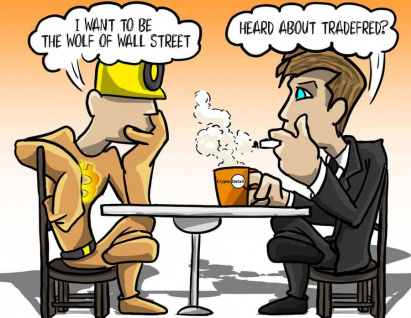 This review will expose you to all you need to know about TradeFred, forex and cryptocurrency broker company.
In the early stages of forex trading, when brokers were trying so hard to get clients, it was not uncommon to get phone calls from numerous "account managers". This so-called account managers naturally started the conversation with you by offering to invest some fixed amount into a particular broker. They started telling you how easy it is going to build your account and make you more than $1000 every day from an initial investment of $500. Well, if that doesn't scream scam! We don't know what else will. Nevertheless, several people fell for this scam. The fact that little or no regulations guiding the forex industry existed then made, further made things worse. 
Nowadays, there are a few scam forex brokers still in existence. This is as a result of several regulatory bodies overseeing the affairs of these brokers. As a result of this, dealing with an unregistered broker becomes tantamount to setting your money on fire. Since there are several top-ranking regulatory bodies in existence, a Forex broker can decide to get accreditation from as many as possible. This is simply because, the more accreditations a broker has, the lesser the chances of such a broker being a scam. 
One forex and crypto broker which has capitalized on this is TradeFred. This particular broker is regulated by several top-ranking bodies and it keeps adding more on a regular basis. It is as a result of this, we are of the strong belief that such a commendable broker needs reviewing. This TradeFred Review will expose you to all you need to know about the broker. 
---
What Is TradeFred?
---
TradeFred is a Forex and Cryptocurrency broker company established in 2016. They ensure that Forex and Crypto traders have a trusted investment solution under stress-free conditions. TradeFred offers a multi-lingual client-centric service. The broker is a part of MagicPath Capital, fully regulated and authorized by the Vanuatu Financial Services Commission (VFSC).
This multinational trading company has several offices in many countries around the world, but it has its headquarters at 6th Floor, Steam Packet House, Cross Street, Manchester, United Kingdom, M2 4JG. Currently, the broker does not serve clients in countries like the US, New Zealand and Australia, because of several limitations, but now that the company has CySEC license, and also looking forward to getting the FCA license it will soon be able to cover clients in those countries. 
---
Bonus and Promotion 
---
TradeFred offers exceptional trading related promotions which beat others in its league. They have an interesting offer whereby cash reward is been offered to clients who are active enough to complete a minimum of 100 trades in a 3-month period. Through the program, clients who are able to archive this can earn about 50% spread fee cashback. They can withdraw this cash and simply use it to open further positions, and the value is clearly indicated in this promotion.
Each account level has its own cash-back percentage. For instance, participants on the Basic level don't get rewarded, while those on the Standard level qualify for a 10% rebate. Participants on the Advanced level gets up to a 30% rebate, those on the Pro level have access to about 40% rebate, and those on the Premium levels qualify for a 50% rebate.
---
TradeFred's Trading Platforms
---
MT4
MT4 is the backbone of the TradeFred's platform which helps it to deliver all that is expected of a perfect trading platform. Through the MT4 platform, traders get to enjoy real-time access to the market. They also get to enjoy technical analysis and complete advanced charting features offered on the platform.
TradeFred's Webtrader
The TradeFred's Webtrader can be launched directly from their website, and it is compatible with several browsers. The Webtrader doesn't have to be downloaded or installed. The platform also covers the mobile trader, as all iOS and Android-based devices browsers can be used for trading. This ensures that traders can have access to the market analysis on the go.
TradeFred Offers, Spreads, Leverage And Products
TradeFred has both fixed and variable spread, depending on the account type. The leverage offered varies, based on the account level of the client. TradeFred Forex section is one that is very attractive, as it offers one of the richest tradable asset selection, as well as the best trading conditions. On the platform, users have the chance to trade with about 50 major currency pairs. There is leverage of up to 1:200 on selected Forex trading pairs while the standard leverage for Forex on the platform is 1:50. For stock trading, the leverage is capped at 1:10.
In terms of precious metals, TradeFred offers two tradable assets which are Silver and Gold. Although Platinum is available, it is included in the commodities section. For precious metals, the maximum leverage is 1:100.  Natural Gas, Brent Crude Oil, and Light Sweet Crude Oil are in the energy section, with a maximum leverage of 1:100.
In its Commodities category, there is a wide range of assets, such as Platinum, Corn, Wheat, Coffee, Cocoa, and Soybeans, with a maximum leverage of 1:100, and trading conditions such as others described above.
Currently, TradeFred only has Bitcoin listed in its Cryptocurrency section. However, the trading pair is in three different options namely, BTC/USD, BTC/EUR and BTC/GBP. The maximum leverage for trading crypto on the platform is 1:2.
---
TradeFred Trading Accounts
---
There are two accounts that can be operated on the platform, and these are the Demo and Real money accounts. The Demo account is free of any kind of risk. TradeFred Demo account offers users full access to the platform and its tools, as well as real-time market information. Features of the Demo account include $10,000 in virtual funds, 14 days of free access and complimentary educational material.
The platform boasts of different real money accounts options targeted to specific budgets. The real money accounts on the platform include the Basic Accounts, Standard Accounts, Advanced Accounts, Pro Accounts, and the Premium Accounts 
Basic Account
The Basic account fits perfectly for investors trading it for the first time. It offers features such as the minimum deposit of $250, leverage of 1:200, minimum lot size of 0.01, and withdrawals within one business day. Clients are provided with a dedicated account manager and a wide range of free educational material.
Standard Account
The TradeFred standard account offers its users an excellent opportunity to explore the market without investing heavily. They offer features such as a minimum deposit of $500, leverage of 1:200, and a minimum lot size of 0.01. Clients also have the offer of withdrawals within one business day, market-leading analysis and world-class support network.
Advanced Account
The Advanced account offers clients an additional enhancement to their investment experience, with an extra assistance on the strategy they can use for trading. The Advanced Account is an ideal platform for traders to expand their horizons further and explore the markets. The Advanced Account offers features such as a minimum deposit of $1,000, leverage of 1:200 and a minimum lot size of 0.01. They also enjoy the opportunity to make withdrawals within one business day, get investment alerts sent directly to their mobile, and get additional trading signals.
Pro Account
The TradeFred Pro Account offers its users five-star treatment with its VIP accounts which boasts of the platform's most comprehensive educational package as well as its superior trading conditions. The Pro Account is for seasoned traders who are already familiar with the nitty-gritty of trading. It offers features such as a minimum deposit of $5,000, leverage of 1:200, minimum lot size of 0.01, and the chance to get withdrawals within one business day. Account holders also have access to specialist market analysts and lower spreads.
Premium Account
The Premium Account opens the door to an unparalleled VIP experience for its account holders, with an ultimate trading account. This account is strictly for high-volume and institutional investors, and it offers exclusive benefits to investment professionals such as a minimum deposit of $10,000, leverage of 1:200 and a minimum lot size of 0.01. Account holders can make withdrawals in just one business day, and have access to specialist market analysts.
TradeFred also operates an Islamic account which is specifically designed to abide by Sharia law. Speculative behaviors are avoided because the account functions on the basis of known costs. The Islamic account is absolutely commission-free, and assets are traded for a future or pre-determined price, and this helps to eradicate any form of speculation. 
---
Deposit And Withdrawal Options
---
Users of TradeFred can simply make deposits and withdrawals via Debit/Credit cards, WebMoney, Qiwi, or bank transfers. Once a deposit is made, the funds are instantly deposited into the client's account. Withdrawals on the platform are not instant and the duration usually depends on the payment options chosen.
Clients also have the option of bank transfers and broker-to-broker transfers, but deposits from these methods could take up to 3-5 business days before it is deposited into the client's account. 
---
License and Registration 
---
TradeFred is regulated by CySEC and VFSC. The Forex and Cryptocurrency company is operational in a host of countries around the world, except for the USA, New Zealand, Australia, and a few others.  The company powered by BetFred is also looking forward to getting its FCA license, and this will surely boost its credibility in the trade market.
---
TradeFred Conclusion
---
Although TradeFred is a Forex and Crypto trading company that was just recently established, the company has been able to make a major impact in the trading market, proving to be a competent Forex and Cryptocurrency trading destination. TradeFred has been licensed by respectable regulatory bodies, which speaks volumes about how credible the platform is. This brings up to the end of our TradeFred Review and we do hope you have picked up one or two things about this awesome broker. 
---
Comments