Waves Token Review: Ride the Waves of Possibility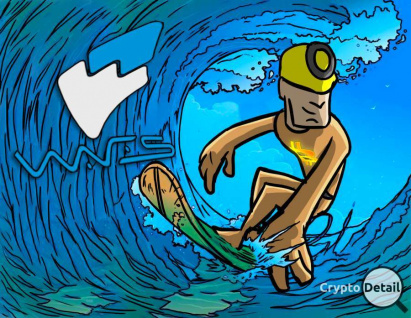 Waves are far from being an ETH Killer (there's no such thing, remember) it is absolutely a platform and token that we recommend; especially to crypto newbies.
Our loyal readers know that there are many things we here at CryptoDetail love about the cryptosphere. One of our greatest loves are those projects that merge the worlds of crypto and fiat. Another of our greatest loves are instant exchanges that allow us to trade our favorite cryptos quickly and easily without interference and red tape. One of our greatest passions here at CryptoDetail is those crypto projects that allow us to build on top of their software. 
Well, # 30 on the CoinMarketCap Top 100 Cryptos List is a coin and a project that embodies all three of those loves. The Waves token is one of the earliest cryptos to challenge Ethereum.  While you all know how we feel about that ETH killer thing, Waves offers some interesting choices. 
---
Let's Compare Tech
---
Both Ethereum and Waves utilize Smart Contracts. While the complexity of the Solidity code used to make ETH Smart Contracts is above most people's level of understanding, the plug-ins used by Waves to create its Smart Contracts are relatively user-friendly.
Ethereum uses a Proof of Work algorithm, and Waves utilizes Proof of Stake (Again, please stay tuned to CryptoDetail for an in-depth review of those two algorithms; coming soon).
Although far more complex in its code, Ethereum only offers Smart Contracts and is intended to be used as a cryptocurrency. Conversely, Waves offers itself as a cryptocurrency with a built-in Smart Contract system, and it is a fully functional instant exchange with fiat gateways. And Waves allow you to tokenize real-world items. So, although not as complex as either, Waves is a simplified combination of Changelly, Ethereum, and BANKEX.
Pretty impressive. Seriously? 
---
What Can the Average User Do With Waves? 
---
While Waves is nowhere near as diverse as ETH, it is actually straightforward to use. Once you have a single Waves token, you can point and click, following a few simple prompts and voila, you just created your own token on the Waves blockchain. Yes, it is that simple.
While that simplicity has led to the creation of many "trash coins" (yes, we did tone down that description), several exciting projects were represented in the tokens living on today's Waves platform. In fact, if you have a solid idea for an ICO /ITO project, the Waves team will even help you bring it to life.
Aside from the ability to create your own token, it is a simple matter of point and clicks to trade any number of cryptos on the WavesDex. These include BTC and ETH. Of course, any of the Waves blockchain tokens can be traded here. And none of that includes any of that red tape we hate so much.
If, however, you do want to "think outside the box" and you are all set up on the Waves platform, do a simple KYC /AML verification (this is just a fancy government way of saying "show your ID"), and you have opened up a whole new world. Once you perform your KYC /AML (Know Your Customer /Anti Money Laundering) verification, you are all set to use fiat (USD, EURO, and YUAN) to buy and /sell cryptos). While we here at CryptoDetail do not use such methods, we certainly see the arbitrage opportunity here. Just a thought for all of you crypto day traders looking for a new edge.
And Waves is far from being an ETH Killer (there's no such thing, remember). It is absolutely a platform and token that we recommend, especially to crypto newbies. 
---
Why would we send newbies to Waves?
---
It is easy to use, and it is fun. Creating your very own token on your first day in crypto drives many to explore the potential and diversity of the cryptosphere much deeper. And it is that thirst for knowledge, that craving for more, that keeps people engaged. Engaged and entertained people come back. The more people who come back to the cryptosphere day after day, the bigger our world becomes.
Like we always say, what is good for one crypto coin /token /project, is good for the entire cryptosphere.
So, for all of these reasons, we here at CryptoDetail love, use HODL, and recommend Waves as a token, as a platform, and as an exchange.
Suppose you have no interest in the platform and exchange (although we are not sure why you wouldn't), we highly recommend the token. With the latest expansions and their newly formed ICO Hub (where you go to have the Waves team help you build your own massive crypto project), this token is yet another underrated, highly underestimated crypto that is poised for that proverbial moon.
At a current price of $2.12/Waves, it is just too good to pass up as far as we here at CryptoDetail are concerned. 
---
We are ready to ride the Waves; are you? 
---
So then hit Changelly or ShapeShift. You can buy as many Waves as you want on either of those two instant exchanges. Or, get a wallet on the Waves site, transfer in a bit of Ethereum or a dew thousand Satoshis, and you can buy the tokens right there through their own built-in exchange.
No matter where you get them, be sure to stock up; the winter jump is coming soon, and we here at CryptoDetail think this is going to be one of those cryptos that takes the big leap up this year.
---
DISCLAIMER
---
Nothing in the above article is intended or presented as "financial advice." Before buying any coin or token or making any financial decisions, it is up to you to do your own due diligence. Then, once you are well informed, it is up to you to discuss your situation and strategy with a reputable, local, crypto-friendly CPA to protect yourself and your money to the fullest extent possible in such ventures. Anything you have read here is merely our assessment and opinion from the facts we have uncovered through our own research. 
---
Thanks for joining us for this exploration! Good luck on your own crypto journey!! Happy HODLing!!!
---
Comments