Dash Coin (DASH) Review: Fastest Growing Chain?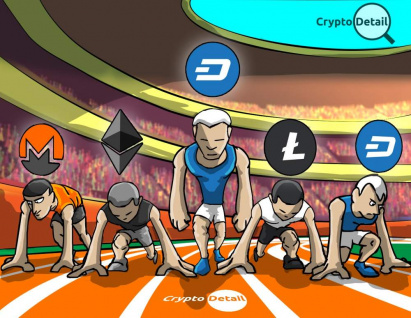 In 2008 we entered the crypto revolution with the release of Bitcoin. The magic was released as we discovered the freedom of decentralization and the security of the blockchain.
Once the revolution began, we started to see other coins appear; each with its answer to what those teams saw as Bitcoin's "problem areas." A few of those early coins are still around today; many are not. One of those "problems" many teams were trying to solve was privacy. The openness of the Bitcoin blockchain was not secure enough for many users. 
To overcome this issue, Evan Duffield created Xcoin. This new crypto gave birth to the long-sought ideal of privacy and anonymity. After the initial launch, Xcoin became known as "Darkcoin" to prove Evan's commitment to privacy further. Then, after a year or so, this coin was again renamed a "Dash" and touted a "digital cash"; a quick, secure, and (say it with me boyz n girlz) PRIVATE way to send funds around the globe.
---
Dash Coin
---
For a couple more years, Dash quietly climbed the crypto ladder while remaining modestly priced; UNTIL the fantastic winter of 2017 when the rest of the world suddenly discovered our secret little crypto sphere, and the price jumped to the proverbial moon. Okay, Dash has not reached the moon yet; but, if you held Dash in the single or double digits for a few years, that jump through into the quadruple digits was "moon-esque." Since then, as with nearly all cryptos, the Dash price has dropped quite a bit and become a little more stable. As of the writing of this article (May 22, 2018), Dash is # 10 in the crypto rankings. This is pretty impressive for a coin that only came to life last year. But, can it claim that it is the "fastest-growing blockchain network"? Let's find out. 
---
How Fast BTC and ETH Grow vs Dash?
---
Any comparison in the cryptosphere has to begin with the "big boys,"; Bitcoin and Ethereum. These coins have seen tremendous growth since their creation. Bitcoin is regarded as the "king of cryptos" for a reason. The "moon" may not have been reached, but BTC is still growing as a project, even today, with projects like the Lightning Network being used to expand and modify the Bitcoin protocol. And, since Bitcoin has seen the brink of $20 000 / BTC, we will say no other coin seems to have grown as fast as Bitcoin throughout its life. But this competition is for the fastest growing blockchain network.
Then there is Ethereum, our favorite crypto. We love Bitcoin and the gift given to us by Satoshi that fateful Halloween so long ago. But, Ethereum is our favorite because of the magical smart contract it contains. As a coder, I love the ETH codes; and all of the possibilities that hide in that code. Those possibilities are why ETH is in the running for the fastest-growing network. The sheer number of ERC20 token projects that have come to life in the past year, along with the millions of new cryptophytes who have joined our ranks because of those projects, has put ETH at the top of the growth charts. But is it at the very top? 
---
#3-5 Growing Cryptocurrencies
---
Next up, we have the "contenders"; Ripple, Bitcoin Cash, and Litecoin. All three are well-established coins that seem to follow Bitcoin's lead in fluctuation. And, all three have made significant progress in terms of network growth. And, all three deserve their spots as #s 2, 3, and 4 on the CMC top 100. But, We are not sure any of these has outpaced the "big boys" in terms of network growth over the past year.
---
#6-9 Growing Coins
---
So let's move on to look at the "up and comers"; #s 6-9 on the top 100. 
First, we have Stellar. An exciting project that has pushed its way into a striking range of the top 5. But with such a massive amount of coins in circulation, We are not sure Stellar has as much blockchain network growth as its rise toward the top may suggest. Likewise with Cardano and IOTA, both interesting concepts; but, both have flooded the market with coins, effectively "buying their way to the top." For these reasons, We are going to discount these three coins as contenders.
Then there is NEO. The possibilities offered with this crypto are making people whisper about its potential. We agree this project is one to watch closely. Still, it is not a contender in our mind.
---
Is Dash the Fastest Growing Cryptocurrency?
---
So, we are left with the "big boys," Bitcoin and Ethereum, and Dash in contention for the top spot. While Dash had seen tremendous growth since its explosion onto the scene last year, We have to say that Bitcoin has outshined it in terms of network performance. And, while BTC has expanded its network to accommodate the flood of new crypto users since last summer; there is still one network that has grown and expanded to fulfill the needs of thousands of new tokens, millions of users, and hundreds of billions of dollars, Euros, Pesos, Rubles and another fiat; Ethereum.
Through expansion, crypto kitties (yep, those dreaded cyber cats), and a variety of technology that would make Spock himself proud; the Ethereum network has successfully met the challenge to keep all of that up and running; letting us play, trade, and H O D L in safety and security while the DEVs keep pushing the blockchain further.
So, when it comes to which coin has been the fastest growing blockchain network since 2017, that prize cannot go to Dash this time. The growth potential is there; but, the ETH blockchain network gets the glory. Sorry, Evan.
---
Thanks for joining us in this exploration. Good luck on your crypto journey. Happy HODLing!!! 
---
Comments