What to Consider When Choosing a Crypto Casino? | CryptoGames Review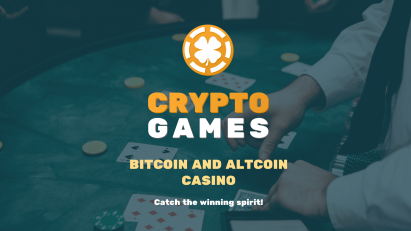 The world of online gambling has undergone a dramatic transformation with the advent of crypto casinos.
These innovative platforms enable players to indulge in their favorite casino games using cryptocurrencies like Bitcoin, Ethereum, or Litecoin. With their inherent benefits of enhanced security, privacy, and faster transactions, crypto casinos have gained immense popularity among gambling enthusiasts. However, with the increasing number of options available, it is essential to navigate through the sea of choices and select the perfect crypto casino that aligns with your preferences. This comprehensive guide aims to equip you with in-depth knowledge and valuable insights, ensuring that you can make an informed decision when choosing the best crypto casino for an unrivaled and rewarding gaming experience.
---
What is a Crypto Casino?
---
Crypto casinos represent a new frontier in online gambling, leveraging the power of blockchain technology and cryptocurrencies. These online platforms operate exclusively with cryptocurrencies, providing players with a secure and transparent environment for their gambling activities. Unlike traditional online casinos that rely on fiat currencies, crypto casinos utilize smart contracts and decentralized systems to facilitate transactions. This decentralized nature ensures that the games are provably fair, with transparent algorithms that can be easily verified by the players. Additionally, the use of cryptocurrencies offers advantages such as instant deposits, faster withdrawals, lower fees, and increased anonymity.
---
What to Consider When Choosing a Crypto Casino?
---
Security and Privacy:
When it comes to online gambling, security and privacy are paramount. Crypto casinos employ advanced security measures to safeguard players' personal and financial information. Look for platforms that utilize SSL encryption protocols, which ensure that all data transmitted between your device and the casino's servers remains confidential and protected from unauthorized access. Additionally, reputable crypto casinos employ strict authentication processes, including two-factor authentication (2FA), to enhance the security of user accounts. Privacy is another vital consideration, and some crypto casinos such as CryptoGames offer anonymous cryptocurrencies like Monero as payment options, further enhancing the confidentiality of your transactions.
Game Selection:
One of the key factors contributing to an exceptional gaming experience is the variety and quality of games available. A reputable crypto casino should offer a wide range of games, catering to diverse player preferences. From classic casino games such as slots, blackjack, roulette, and poker to more specialized options like live dealer games and sports betting, the game selection should be extensive and engaging. Furthermore, the credibility of the software providers behind these games is paramount. Renowned software developers like Microgaming, NetEnt, Evolution Gaming, and Playtech are known for their exceptional graphics, immersive gameplay, and fair outcomes but those games are usually not provably fair, so there is no way you can verify the outcomes of each bet. So selecting casinos such as CryptoGames that provides in house games is the best option.
Deposit and Withdrawal Options:
Seamless and hassle-free transactions are essential for an enjoyable gambling experience. When selecting a crypto casino, evaluate the available payment options and withdrawal policies. Look for platforms that support a wide range of cryptocurrencies, allowing you to choose the one that aligns with your preferences. It is crucial to assess the transaction fees associated with deposits and withdrawals, as excessive fees can significantly impact your bankroll. Additionally, consider the processing times for transactions. A reliable crypto casino will prioritize quick and efficient deposit and withdrawal processes, ensuring that your funds are readily available when you want to play or cash out your winnings.
Bonuses and Promotions:
Bonuses and promotions add excitement and value to the gambling experience. Crypto casinos often offer a variety of bonuses to attract and retain players. These can include welcome bonuses, deposit bonuses, free spins, loyalty programs, and more. However, it is essential to carefully review the terms and conditions associated with these bonuses. Pay attention to wagering requirements, minimum deposit amounts, maximum withdrawal limits, and eligible games. Transparent and fair bonus policies are indicative of a reputable crypto casino that values its players and seeks to provide genuine rewards.
User Experience and Interface:
A smooth and user-friendly interface is paramount to an enjoyable gaming experience. When selecting a crypto casino, consider the ease of navigation and the intuitiveness of the platform. The registration process should be straightforward, allowing you to create an account quickly. Look for casinos that offer a clean and visually appealing design, making it easy to find your favorite games and explore new ones. Mobile compatibility is another crucial aspect to consider. A reputable crypto casino should provide a responsive and optimized mobile platform or a dedicated mobile app, allowing you to enjoy your favorite games on smartphones or tablets.
Community Reputation and Reviews:
The reputation of a crypto casino within the gambling community is a valuable indicator of its reliability and trustworthiness. Before making a decision, research user reviews and feedback from other players. Positive reviews and testimonials from reputable sources can provide confidence in the casino's legitimacy, fair gaming practices, and prompt customer support. Conversely, negative reviews or reports of unresolved disputes should raise concerns and prompt further investigation. Pay attention to community forums, social media platforms, and review websites to gather insights from experienced players. A well-established and respected crypto casino will have a positive reputation within the gambling community.
Responsible Gambling Measures:
Responsible gambling is a crucial aspect that reputable crypto casinos prioritize. Look for platforms that actively promote responsible gambling practices and provide tools to help players control their gaming habits. These tools may include setting deposit limits, session time limits, and self-exclusion options. A responsible crypto casino will also provide resources and support for players who may be experiencing gambling-related issues. Collaborations with organizations dedicated to responsible gambling highlight the casino's commitment to player well-being. By choosing a crypto casino that prioritizes responsible gambling, you can enjoy the excitement of gambling while maintaining control over your gaming activities.
Legal and Licensed Casino:
Before diving into the world of crypto casinos, it is crucial to consider the legal aspects. The regulatory landscape surrounding crypto gambling varies across jurisdictions. While some countries have embraced cryptocurrencies and provide clear regulations, others maintain a stricter stance. Researching and understanding the legal framework in your region is imperative to ensure that you choose a crypto casino that operates within the bounds of the law. Look for platforms that hold reputable gambling licenses from recognized authorities, as these licenses indicate compliance with stringent regulations, fair gaming practices, and player protection mechanisms.
---
One Such Casino: CryptoGames
---
CryptoGames has quickly gained recognition as one of the leading online cryptocurrency casinos. With its establishment in 2020, the platform has become a go-to destination for players seeking a secure and enjoyable gambling experience. Let's delve into the features and advantages of CryptoGames that make it the best choice for discerning players.
Reputation and Trustworthiness:
CryptoGames has built a strong reputation for its commitment to transparency and fairness. Licensed and regulated by the Government of Curacao, the casino adheres to strict industry standards. Users can explore the casino's background and history, and the positive feedback from numerous satisfied players testifies to its trustworthiness.
Game Library:
CryptoGames offers a diverse range of 10 in-house games that cater to different gambling preferences. From classic favorites like Dice, Roulette, and Blackjack to unique offerings like Plinko and Minesweeper, players are guaranteed a varied and engaging experience. The reliability and quality of the software providers ensure smooth gameplay and immersive graphics.
Here are some of the notable games available at CryptoGames:
1. Dice:
Dice is a classic game of chance where players predict the outcome of a dice roll. With adjustable win probability and potential high payouts, Dice is a favorite among both seasoned gamblers and newcomers.
2. Roulette:
Roulette is a timeless casino game that has been enjoyed for centuries. Players place bets on the outcome of a spinning wheel, with various betting options available. CryptoGames offers a visually stunning and fast-paced version of this popular game.
3. Blackjack:
A staple in any casino, Blackjack is a card game where players aim to have a hand value closer to 21 than the dealer's hand without exceeding it. CryptoGames' Blackjack offers smooth gameplay and intuitive controls, allowing players to test their skills and strategies.
4. Plinko:
Plinko is a unique game where players drop a ball from the top of a pegged board and watch it bounce through a series of obstacles before landing in a slot. Players can adjust the risk and potential payouts, adding an element of excitement to each drop.
5. Minesweeper:
Based on the classic computer game, Minesweeper offers a thrilling and strategic gambling experience. Players choose tiles on a grid, hoping to avoid hitting hidden mines. The more tiles revealed without hitting a mine, the higher the potential payout.
6. Video Poker:
CryptoGames offers three different versions of Video Poker: Jacks or Better, Tens or Better, and Bonus Poker. Players aim to build the best poker hand possible, with payouts based on the strength of the hand and the initial bet.
7. Lottery:
Lottery games provide players with the chance to win big with a small investment. CryptoGames offers a lottery game where players can purchase tickets and participate in regular draws. The best part? The house edge for the CryptoGames lottery is 0%, meaning players have a fair chance to win.
8. Keno:
Keno is a lottery-style game where players select numbers from a grid and hope their chosen numbers match those drawn by the casino. CryptoGames' Keno offers a thrilling and fast-paced gameplay experience.
Each game offered by CryptoGames is carefully designed to provide fair outcomes and an enjoyable gambling experience. The intuitive user interface, stunning graphics, and smooth gameplay contribute to the overall appeal of the casino.
By offering a diverse range of games, CryptoGames ensures that players with different preferences can find something to suit their tastes. Whether you enjoy the simplicity of Dice, the thrill of Roulette, the strategy of Blackjack, or the excitement of Plinko and Minesweeper, CryptoGames has something for everyone.
Security and Fairness:
At CryptoGames, security is paramount. The platform employs robust encryption protocols to safeguard user data and transactions. Additionally, the provably fair system allows players to independently verify the fairness of each bet, ensuring transparency and eliminating doubts about the integrity of the games.
Bonuses and Promotions:
CryptoGames offers an array of enticing bonuses and promotions to enhance the gaming experience. Users can take advantage of faucet bonuses and rains to test games without risk. The casino also provides random vouchers through social media, email, and the chatbox, adding an element of surprise. Daily and weekly challenges offer additional rewards, giving players ample opportunities to boost their winnings.
Payment Options and Transaction Speed:
CryptoGames supports a wide range of cryptocurrencies, including Bitcoin, Ethereum, Litecoin, and more. The casino's flexibility extends beyond the supported coins, as users can utilize the "ChangeNow" feature to deposit over 50 different altcoins, instantly converting them to a supported currency. The built-in exchange feature further enables seamless conversion between supported coins.
Customer Support:
CryptoGames takes pride in its prompt and reliable customer support. The casino offers various channels of communication, including live chat, email, and phone support. Players can expect quick responses and assistance from a dedicated support team. Positive user feedback highlights the quality of the customer service provided.
Responsible Gambling Measures:
CryptoGames places a strong emphasis on responsible gambling. The platform provides comprehensive tools and policies to promote responsible gaming practices. Players can set deposit limits, self-exclusion options, and access resources to ensure a safe and controlled gambling environment.
Mobile Compatibility:
Recognizing the growing demand for mobile gaming, CryptoGames ensures a seamless experience for players on smartphones and tablets. Whether through dedicated mobile apps or a responsive website design, the casino optimizes its platform for mobile devices, allowing users to enjoy their favorite games on the go.
---
Conclusion
---
When it comes to choosing the best crypto casino, CryptoGames stands out as a top contender. Its impeccable reputation, wide selection of games, robust security measures, attractive bonuses, and responsive customer support make it an ideal choice for both experienced players and newcomers to the world of cryptocurrency gambling. Explore CryptoGames today and embark on an exciting and secure journey in the realm of online crypto casinos.
Comments