Cryptouniverse Review: Is Cloud Mining Profitable?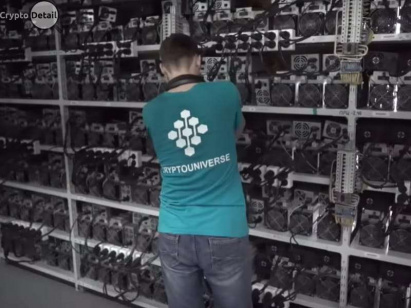 CryptoUniverse offers users a great opportunity to enter the crypto markets in a simple and convenient way. At CryptoUniverse, users can easily compare cloud mining contacts or even individual miners which will depend on the user's preference.
The crypto markets are taking off at a pleasantly surprising rate, and as the markets keep going forth, so does the interest in cryptos go. People, who got rid of their cryptos when the markets were down, are currently ruing those decisions, while those who hang tight and continued to buy the bottom are grinning from ear to ear. The rising markets present even more reasons why one should want to learn about cryptocurrencies and be linked to a team that understands the crypto ecosystem and aims to make it accessible to all. CryptoUniverse is that team.
If you hang around the crypto circles, you are more than likely to have heard of this company, whose chief objective is to create the most robust crypto infrastructure and have all interested parties linked in and able to access it. This genius company was created by a group of people mad about crypto, and the look of what they made only exemplifies their passion and commitment to space.
---
CryptoUniverse History
---
The group is a firm believer in the spirit and purpose of cryptocurrency, which is to create a decentralized environment full of unlimited opportunities that youth and other players in the space can take advantage of. Established in mid-2017, the company has brought together a host of crypto enthusiasts, IT professionals, and engineers to see to it that their objectives are met and that innovation remains at the top of their list.
The company founders made a trip to China in Mid 2017 to seek more knowledge and pick the brain of some of the Chinese experts involved in the space. Their journey led to the signing of significant pacts that led to secure partnerships with some of the most well-established Bitcoin mining equipment companies in the country, such as Bitmain and Canaan.
2017 was the year for big moves at the company after it set out to put up the most significant mining farm in Russia, just on St Petersburg's outskirts. The ribbons would officially be cut on the 20th of August the following year, and as of now, there are already 20,000 miners at work on the remarkable facility.  The outskirts of St Petersburg were perfect for the plant due to ideal climatic conditions and proximity to sources of power, which is an essential component for crypto mining.
The mining facility has state-of-the-art equipment and a kind of software coupled with a superb cooling system that goes a long way in maintaining and preserving the 24/7 operations of the plant. You will also be impressed to learn that the entire project is wholly owned by CryptoUniverse, which guarantees safety since the company itself is in control.
---
How CryptoUniverse Works
---
CryptoUniverse offers users an excellent opportunity to enter the crypto markets conveniently and straightforwardly. Whether you are seasoned in the space or just a newbie, the company will lace you with easily understandable techniques to manage your accounts and control your contracts. At CryptoUniverse, users can easily compare cloud mining contacts or even individual miners, depending on the user's preference. Thanks to this company, users will have access to the cash rate exchange and buy Litecoin 2025 and Bitcoin 2025.
---
CryptoUniverse Cloud Mining Contract Types
---
CryptoUniverse operates with high reliability and devastating efficiency thanks to the state-of-the-art infrastructure that they have invested in. They make use of the SCRYPT and SHA-256 algorithms to mine Litecoin (LTC) and Bitcoin (BTC), with Ethereum (ETH) being next in line as a mineable prospect. Therefore, there is no reason not to put your trust in the company since all their operations are carried out in some of the tightest security standards, highly specialized equipment maintenance, and 24/7 monitoring to ensure maximum performance.
There are three types of contracts made available by the company:
- Eight contracts with BTC valid from a month to 5 years
- Four contracts with LTC valid from a month to 5 years
- Eight contracts on classic models and specific models of mining equipment
Users receive payouts every day, with their contracts calculated depending on the type of contract.
---
CryptoUniverse Features
---
Several factors indicate that this company enables miners to give those that mine that extra edge individually:
---
1. Availability of equipment
---
With the company, equipment is accessible to you at all times; if you do it yourself, you will waste time waiting for vendors' equipment delivery.
---
2. Quick operability
---
You don't need to seek IT services to set you up, but you definitely will need to get help if you do it yourself.
---
3. Mining conditions
---
CryptoUniverse will provide the precise requirements for mining equipment, including top-of-the-range cooling equipment, to maintain the system; on the other hand, an individual miner will struggle with the cooling system and incur high repair costs due to overheating.
---
4. Power costs
---
Electrical power is relatively low with the company, with power pricing being excellent for all the contracts; individual miners have to contend with sky-high power costs.
---
5. Operational consistency
---
The company will ensure that operations continue optimally with careful monitoring 24/7, while individual miners have to deal with downtime occasioned by maintenance and repair.
---
6. Security
---
Miners with the company are assured of safety, while those mining independently have to incur extra costs for their safety.
---
7. Expenses
---
With the company, miners pay the amounts according to their contracts only, while individual miners have to deal with several unforeseen costs.
---
8. Knowledge and skills
---
There is little or no Knowledge gap for miners who enjoy the company's backing; on the other hand, individual miners require a lot of knowledge to keep up with the mining and have firm control over the equipment.
---
Comments