Top 10 Bitcoin Mining Pools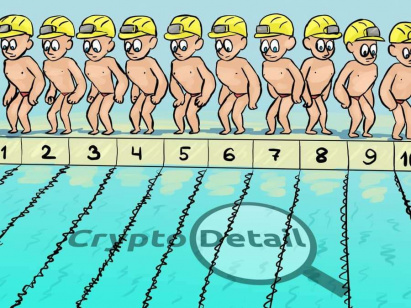 To continue our exploration into cryptocurrency mining; we want to expand our mining series to mining pools with our Top 10 Cryptocurrency Mining pools.
Recently we here at CryptoDetail have discussed the most profitable coins to mine and whether crypto mining is profitable anyway (it is!).
We want to expand our mining series to mining pools with our Top 10 Cryptocurrency Mining pools to continue exploring cryptocurrency mining.
---
What is a Mining Pool?
---
Put a pool is a group of crypto miners who band together to compete to mine the next block of their chosen coin's blockchain. Whoa! Wait a minute! Compete? Doesn't mining automatically give you a payout? Yes. No. Not necessarily. It isn't effortless.
Although you will eventually mine coins regardless of your setup, the crypto mining system is based on the mining process's speed. Therefore, it's a race to the finish to see who finishes a VERY complex math problem first. Whoever crosses the finish line before everyone else takes the prize.
With massive hardware rigs running on cheap electricity, large mining operations have the hashing power to get to the finish line first if left unchallenged. So, this means they get the lion's share. Unfortunately, that means that the solo miner running a software mining operation will take quite a bit of time to see substantial gains. At the same time, this isn't necessarily a bad thing. We at CryptoDetail firmly believe that a Satoshi earned today; will be worth $1 tomorrow (or one day in the future). But, if you're looking for maximum profits in a relatively short amount of time, you have a problem. Never fear. For every situation, there is an answer.
---
The answer to this problem is the mining pool, where the minor operations band together to have a fighting chance at their pieces of the crypto pie. But, which pool should you pick? Well, as with any endeavor in the cryptosphere, we urge you to do your due diligence. But, to help you start on that journey, we've put together a list of 10 of our favorite mining pools.
---
#10 BW Pool
---
At #10 we have BW Pool. This Chinese mining company has held a solid reputation in the cryptosphere since 2014. BW Pool claims approximately 2% of all blocks mined today. However, due to BW Pool participants' sheer size, solo software mining through this pool will still take you quite a bit of time to accumulate a profitable return. Hence, the relatively slow rate of return (compared to others on our list) BW Pool rests at #10.
---
#9 Bitfury
---
Following closely at #9 is Bitfury, which mines around 2% of all blocks mined today. Unfortunately, this is a private pool; so, you would not be able to join this operation without an invitation. Although we here at CryptoDetail have researched and even reached out, we have been unable to ascertain how to get one of those invitations. Still, even with a closed membership, their 2% accumulation of wealth has given Bitfury a place on our Top 10 list.
---
#8 BTCC
---
Millions of us in the cryptosphere know the name BTCC as that of the third-largest Bitcoin exchange in China. However, some of us may not realize BTCC also runs the mining pool that claims 7% of all blocks mined, making them #8 on our Top 10.
---
#7 Bitclub.Network
---
Rolling in at our #7 is the giant FUD magnet on our list; Bitclub.Network. While the cryptosphere seems to be a bit divided on the legitimacy of BCN, they have a history of blockchain transfers to back up their claims. The company is based in Romania. However, the mining operations themselves are verified to be in Iceland. With the CHEAP hydrothermal electricity available in that country, we here at CryptoDetail see the profitability in this operation. Those facts (the TX history and verified mining operation) give Bitclub. Network its #7 spot on our Top 10 list.
---
#6 BTC.top
---
Another private pool claims our #6 spot; BTC.top. This pool is a bit pricey to get into; but, if you visit eminent investors. com (one of the only methods of entry we've found) you can buy into BTC. Top's mining pool for a mere $50 000. While this is a bit steep, they offer weekly payouts (verified) and have excellent reviews. So, if you're looking for big money and have the seed money, our #6 pool is a perfect opportunity to let your money grow.
---
#5 F2pool
---
We traveled back to China for our #5 pick; F2pool. Some people in the cryptosphere know this pool by the name DiscusFish. Regardless of where you were introduced to this pool, or by what name you call it; F2Pool, mines around 6% of all blocks. This impressive capability earns them the #5 slot on our Top 10 list.
---
#4 ViaBTC
---
Our #4 pick is another Chinese pool; ViaBTC. While they specifically target Chinese miners to join, it isn't necessarily a requirement. Although this pool has only been around for a short amount of time, their impressive track record for payouts and a massive group of active miners snagged this spot on our Top 10 for ViaBTC.
---
#3 Bitmain
---
A subsidiary of the well-known Chinese-based company Bitmain grabs our #3 spot. Antpool mines a massive piece of the blockchain. Participants in this pool share in about 25% of all blocks mined. This impressive feat gives Antpool this coveted position on our Top 10 list.
---
#2 BTC.com
---
The #2 slot goes to one of the biggest mining pools in the cryptosphere; BTC.com. While we strongly suspect their place as a significant player is initially based on name recognition (after all, when you want to mine BTC, Google's algorithm will lead you to the most appropriately named sites first). However, BTC.com has been around for a while now, and the payments keep their miners participating. So, BTC.com stands at #2 on our Top 10.
---
#1 Slush
---
While it isn't the largest, nor does it mine the most significant percentage of blocks, Slush is our #1 pick. Their loyal cult following among miners grabs around 3% of all blocks. Since Slush was the very first crypto mining pool, their long track record has earned them a reputation beyond reproach; and the honor of our CryptoDetail #1 mining pool.
---
Good luck with your crypto mining adventure! Happy HODLing!!!
---
Comments