NFT Marketing Strategies To Promote Your NFT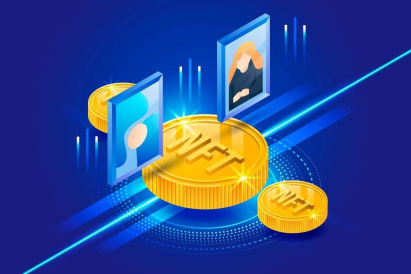 Many talented NFT artists stay unpopular forever. They don't know there are a lot of marketing strategies to promote your NFT artworks. Learn the best of them.
The concept of non-fungible tokens is ruling over the entire market in the digitized global space. Their popularity in recent years has been tremendous, and the trait is still marching in the market. 2021 was a skyrocketing year for NFTs and crypto businesses. Adding to the trends, the invasion of celebrities in the sector and popular brands like Pizza Hut or Pringles, can be witnessed as the incredible reach of NFT. Moreover, along with the marketplace, other subordinate businesses emerged with undeniability. This raises the need for opting for NFT marketing services to market the NFT collections to the target market and investors.  These networking strategies in the crypto space have also been an evident method to strengthen business activities proven in the market. 
---
Why Marketing is Important to Sell Your NFT Tokens? 
---
The significant and undeniable requirement for marketing your NFT is the necessity to stand out from the crowd as we know that the competition is high. Like every individual is different, every business strategy is different. It is required for the NFTs to be pocket in their way to be in the hand of the right collector to validate on par. There have been scenarios where creative NFTs in the market had not gotten good traction, while the regular ones would have significantly impacted its primary and secondary sales. This was all possible because of appropriate marketing strategies that gather high profit for creators and sellers. 
---
NFT Marketing Strategies
---
There are various methods to market your NFT. A cluster of options is piled up for businesses to choose their strategy to promote their business, particularly their NFT businesses. Despite the classification in marketing, a company needs to engage in traditional and modern marketing strategies to understand business needs and requirements. Moreover, as a means of effective marketing and reaching out to the best audience, your physical existence in the real world also matters apart from the digital presence. It is the fact that real people are still driven by your physical presence, connecting logic and emotion, making them feel one among or part of the business. 
---
Marketing Strategies for Blockchain Businesses
---
When it comes to Blockchain-based business, all you need is to build your NFT community for marketing. The company must have accounts in social media, communities, and forums with various audiences and track their interest in blockchain and technological improvements. These accounts help the entrepreneur create a mirage of their presence in the digital space and act as a personal assistant to guide the user and customer requirements. These spaces help us gather more audience than expected. It eventually reduces a lot of time and effort in gathering the targeted audience, rather than communicating to a crowd, identifying its interest, and then relating with technology, its utility, and others. 
Similarly, it would help to list your NFT in various marketplaces to gain traffic for your creations. To cope with the prevailing trends in the NFT space, it is wise to create your NFTs compatible for trading in other secondary NFT marketplaces. And we also can't deny that this eventually makes brand awareness with a prominent presence for the audience to identify quickly. 
Platforms like Telegram, Discord also have their importance in promoting crypto business. Moreover, a much more convenient platform for companies to easily manage their business and customers more efficiently. Being unrelated to crypto, these platforms still provide a good platform for enterprises to manage their groups easily and channel them in a perfect space. Moreover, they also give you room to interact with the community at ease. And working yourself on these platforms is challenging, yet the success lies in how well you create a rapport with the communities.  And the knack is not far, and you get it on the flow that helps in eventually increasing the sale through effective marketing. 
---
Regular Digital Marketing to Promote Your NFT
---
We will have to clarify that the business based on blockchain is entirely in the digital spectrum. Therefore, effective marketing to blockchain-related firms brings the utilities of digital marketing activities that are more common for all domains, websites, and applications.  
---
SEO Marketing
---
To bring in organic visibility for your NFT business, Search Engine Optimization (SEO) can help you track it organically for your domain. Users are very convenient for searching and surfing things online. Anything, at any time, you can get it from google search. It is essential to make the business more optimistic and highly active with regular practices. It's a huge success when your keyword hits massive traffic, and the users will eventually trust your Business as they get the required stuff and information from a space where the entire world relies on something. 
We will have to understand that social media is not solely dedicated to crypto and its niches. But standing in the front row with organic front, here you gain the attention of not just your target audience, but also kindle a significant spirit in others and expand brand awareness eventually. With an active presence in platforms like FaceBook, Twitter, LinkedIn, and others, with active participation and constant support, it eases the process to achieve the goal quickly and conveniently. 
---
Media Buying
---
The other unavoidable aspect of NFT marketing services is PPC Campaigns. You run ads for your business on various platforms, especially on the mainstream platforms like Google, Facebook, Bing, and others. The contents can be promoted on Pinterest, Reddit, Quora, and other media. They have their policies to advertise NFT related Content. All of them must be checked in to explore various options. 
---
Content Marketing
---
Moreover, content marketing is the key to grabbing colossal attention. No marketer will deny that content is the king and an apt choice to increase brand visibility through blogging, infographics, research articles. In a manner, establishing thought leadership increases the confidence in people to respect the brand that helps transform sales more efficiently, with no hesitation. 
---
Email Marketing
---
Next comes Email marketing, today's big daddy, consistently connecting clients, Businesses, dealers, and others through regular updates on business activities, newsletters, PR, and other Content shared to the people. They get to know how things fall on Business and its activities with regular updates. 
---
Your Website
---
All for all of this, websites are the interlinking point in digital marketing. Your Business needs to have a fantastic website with all the features, facilities, connecting, and attracting the visitors that are self-explanatory for the user to converse and derive their required answer easily. 
---
Influencer Marketing
---
Every field has its specialist, and the newfound term who educate and convey the society about the new ideas and thoughts are termed influencers. People with good knowledge and specialized in the field help the Business reach a great extent with intensified results. Moreover, Influencer marketing is in the top tier in marketing strategies. 
Moreover, with the growth of the internet and technology, video influencers have a great reach in the market, which is more effective. They are slowly evolving in mainstream marketing with their potential to attract a much broader spectrum. As video marketing is highly customized and the Content is all up to your choice, the video can focus on anything based on the business, including AMA sessions. 
---
PR Activities
---
And following this, a strong PR strategy can also be more beneficial in effectively promoting your business. Based on your NFT business activities, you can communicate it to your community as a Press release in a formal manner. There are chances for third parties to pick new Content and create one that gains more attention to yours. And therefore helping you gain increased business credibility for your NFT Business. 
---
Final Verdict
---
Therefore marketing and NFT projects or your business functioning on the blockchain network are tricky unless you understand its business objectives and requirements. With good data and resources, it's easy peasy to market your NFT Business. Moreover, it is essential to focus on 360° to gather the attention of the entire ecosystem to explore the fullest of its potential. And to do so, an NFT marketing services provider exclusively focusing on helping businesses reach best to its audience can help you more effectively. 
What else? Reach out to the best NFT Marketing services provider in town and breed your NFT business spectrums and niches.
Comments