Bitcoin Mining Explained | To Mine or Not to Mine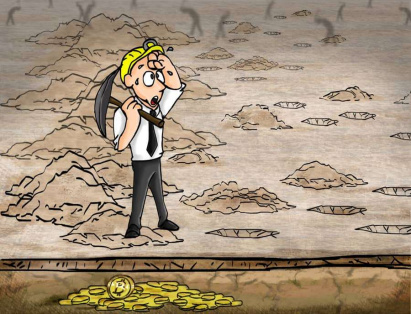 Mining crypto coins is an arms race of sorts. This race has only one prize; the block. Whoever has the computer that solves the algorithm first, gets the block of coins.
You have surely heard about Bitcoin, the main decentralized currency announced to the world on Halloween 2008. Many other crypto coins have been created since Bitcoin, including several Bitcoin forks; the most successful Bitcoin Cash. 
---
Today 
---
There is especially the notion that one can attain unheard of wealth with little effort simply by investing a couple of hundred dollars into some mining gear. Those who fall prey to this dream have soon learned that it takes months of crypto-digging before any coins arrive to give a modest profit.
Litecoins, Dogecoins, and Feathercoins are three Script-based digital forms of money that are the most economical cryptos for the novice miner. Current mining of Litecoin, with average computer equipment, may show a gain of somewhere in the range of 50 pennies to 10 dollars for each day, depending upon the out-of-the-box equipment used. Dogecoins and Feathercoins will return somewhat less benefit with similar mining equipment. However, those are ending up as more mainstream every day. 
---
Profitability 
---
On the off chance that you have no electric bill as overhead, there are far more options that will mine Bitcoin. This is a prolonged process; but, with the past growth of the primary crypto coin and its future growth potential; likely the most profitable in the long run. With the current electricity cost in most locales, GPU and CPU mining will take more power than such an effort is worth it. You could CPU mine and still, make a profit when the price of BTC skyrockets once more. The very concept of the coin itself demands such a surge periodically until the day the last coin is mined. However, at the moment, CPU mining is a bit like picking up a penny from a parking lot under the adage, "a penny saved is a penny earned". If you are the frugal type who lives by this theory; you will surely see a profit in the future for your efforts today.
Early Bitcoin miners could accumulate a large number of Bitcoin in a rather short amount of time. Back then, one Bitcoin was not yet worth one penny. Bitcoin's mining cost, specifically the cost of the energy to mine one bitcoin, must be considered. A sharp drop in the BTC price can turn somewhat profitable mining operations into far less profitable mining operations. Value changes are the factor, yet keeping the design of Bitcoin in mind; and the fact that the value WILL rise again, far above what we have seen to date, should help you keep future profits in mind; if you can afford current losses or stagnation. 
---
To mine or not to mine

---
Huge mining operations have representatives working all day to guarantee that all of the equipment is working properly. A couple of hours disconnected could be the difference between a large amount of profit or loss. With a specific end goal to earn Bitcoin through mining great "mining productivity, adding machines" were developed. These computers consider the diverse parameters, such as lower cost, the cost of your equipment, and various other factors, and gauge your anticipated benefit.
Today there are many Altcoins accessible available, and many of them are still truly simple to mine. The issue is that, because there are such huge numbers of crypto possibilities, it is difficult to tell which ones merit putting your time and resources into mining. If you do not have the time or the cash, you should avoid mining and put resources into purchasing Bitcoin, or the crypto of your choice (after sufficient research) for long-term HODLing.
To mine, or not to mine, that is the question. But, before you can answer that all-important question, you must do your due diligence by researching every possibility in-depth, before deciding how, and if, crypto mining is right for you. 
---
Comments