CCG Mining Review | Custom Rigs and Cloud Mining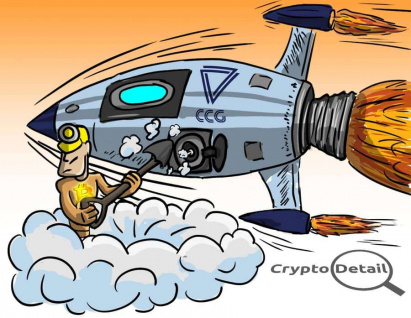 In case you would like to join cryptocurrency mining with a minimal budget, CCG Mining will be one of the best options.
Everyone knows, the cryptocurrency mining industry became huge and dominated by large corporations like Bitmain or Bitfury. Bitcoin is mined mainly by powerful ASICs, some other coins - by GPUs or CPUs. The cost of entrance is high, and the profits could be adequate only in case of having massive rigs with millions of dollars invested. Check the CCG mining review to find out whether it's the end of a regular miner or not.
The crypto industry is, therefore, awesome as you always have different options to earn. There are so many coins that could be mined. Moreover, you have access to a community also willing to make with mining, trading, or something else. You are not alone here. Cloud mining is an option to enter the crypto mining with a minimum expense, like $10. Today we are talking about CCG Mining, which is quite old for crypto and legit. 
---
What Is CCG Mining and How Much Does It Cost?
---
So, what is CCG mining? CCG Mining is a full-scale international cryptocurrency mining company. The head office of CCG mining company is located in London. It has been operating from 2016 with about 50000 active clients, both individuals and businesses. It has mining facilities in Poland, Britain, Russia, Austria, Latvia, and the Czech Republic. The company has ambitious goals of achieving the highest hashing power in Europe and providing the easiest and the most straightforward service to its users.
The company offers cloud mining contracts starting from about $11 (100 GH/s). The periods available: 1 year or unlimited. They have options to mine Bitcoin (BTC), Bitcoin Cash (BCH), Ethereum (ETH), ZCash (ZEC), MONERO (XMR) or Litecoin (LTC). 
The additional maintenance fee is about $0.00017 per 1 GH/S daily. It covers electricity cost, cooling, hosting, and maintenance and looks cheap compared to others in this market. Specifically, the company uses mainly ASICs for mining Bitcoin. This equipment proved to be highly expensive and risky to invest in for your house farm. Cloud mining is an option here to have a share in the company profits with a minimal entrance cost. 
---
CCG also provides rigs for Ethereum mining, which will be an up-to-date ready-for-use pack or even non-standard and specialized. You can set, configure the rig, and start mining at your place. You receive all the necessary advice you need to set everything right and maximize your returns.
This offer seems to be a competitive advantage beyond other cloud mining firms. Prices start from about $3800 (including the latest high-efficient GPU and CPU equipment). 
---
The company makes a payout to its customers on the 15th day each month. Available payment options are Payeer and Bitcoin. The minimum withdrawal is 0.002 BTC.
---
CCG Mining Opinions:  Risky or Not?
---
According to CCG mining reviews, CCG Mining is operated by a strong and powerful team of experts who are open to dialogue with every client. You could reach them via Facebook and Linkedin. Feel free to ask any questions from them. Share your experience and CCG mining opinions and findings with us. Their social profiles are available at the "About us" page. 
As for the profitability, it highly depends on the price of the cryptocurrency you're mining. When it's falling, your profit could be harmful. It's applied to any business you do in the crypto sphere. Moreover, for the mining industry, it's affected by the price of electricity.
So, we consider this activity as risky. The 2018 year was tough for everyone. Bitcoin price was steadily falling as well as for other cryptocurrencies. You had to have a large cost-effective data center to mine with profit. Nobody could have positive earnings in 2018 with a small house based farm except you had free electricity and cheap and powerful ASICs (I mean buying from disappointed newbie miners with a considerable discount using CCG mining promo code). 
Also, investing millions in their farm development seemed to have the highest risk. So these times, cloud mining is going to be the best option. The legit and powerful company bears all the risks and overhead costs. And you are investing long-term with positive forecasts around the whole cryptocurrency industry. This time your potential loss will be much lower. But in the case of the favorable market scenario, your potential profits could be just incredible. 
---
CCG Mining Scam or Legit
---
We strongly believe the long-term trend of crypto will always move upwards, as there are too many signals and fundamental reasons for this. The classic approach of diversifying your investment portfolio works for crypto as well. Today the cloud mining contracts prices seem to be reasonable. It will rise in the future. So maybe it's an excellent option for a financial instrument to have in your crypto portfolio. 
Is CCG mining scam or not? In 2016, I witnessed the vast profits my mates were getting with investment in cloud mining. It was the dawn of such companies as Hashflare and Genesis Mining, and I felt everyone made profits that days. I guess, now, this industry becomes more prudent, less risk-averse, and with a long-term return on investment. Everything is changing, real scams leaving the market as the governments and law enforcement officials now have efficient methods for their pursuit. So, don't worry - CCG mining legit.  Do you still ask yourself whether CCG mining scam or legit? The cryptocurrency industry becomes mature, useful, and practical. I am happy with that.
---
Disclaimer
---
This article isn't intended to be financial advice. We recognize cloud mining contracts bear the high risk, and we don't recommend investing all your money in such solutions. Please try to make your due diligence and research before making important investment decisions.
---
Thank you for reading, and I wish you an exciting crypto adventure!
---
Jim Sanders
Comments